Are you looking for decorating ideas for an ELA classroom? Upper elementary classroom decor and middle school decor probably look a lot different than your lower elementary classrooms. What is important to include in your language arts classroom decor for upper elementary? Let's look at 5 decorating ideas for an ELA classroom that are easy and simple.
First of all, I believe that classroom decoration should be functional and useful. I love a pretty classroom, and I personally like to color coordinate items. But this is not completely necessary. Creating a warm and welcoming space with useful and beneficial classroom decor has always been my personal goal.
Here are 5 great decorating ideas for an ELA classroom.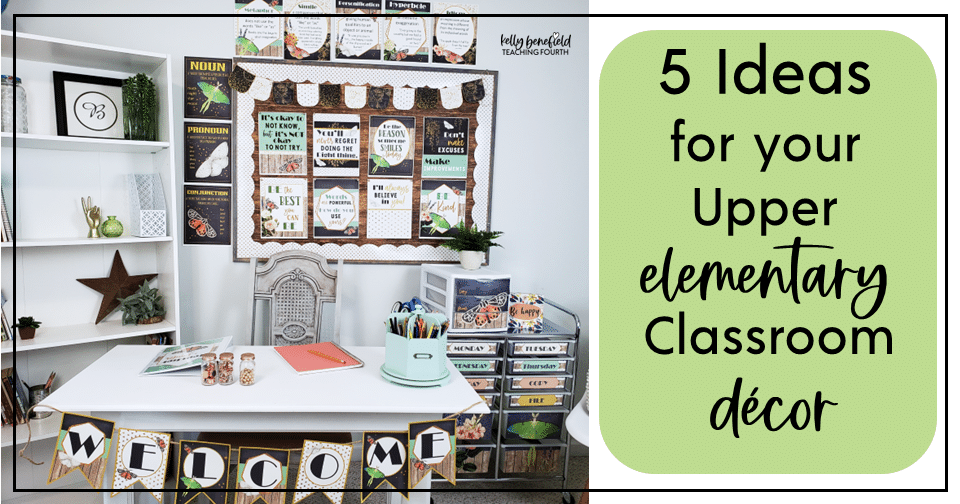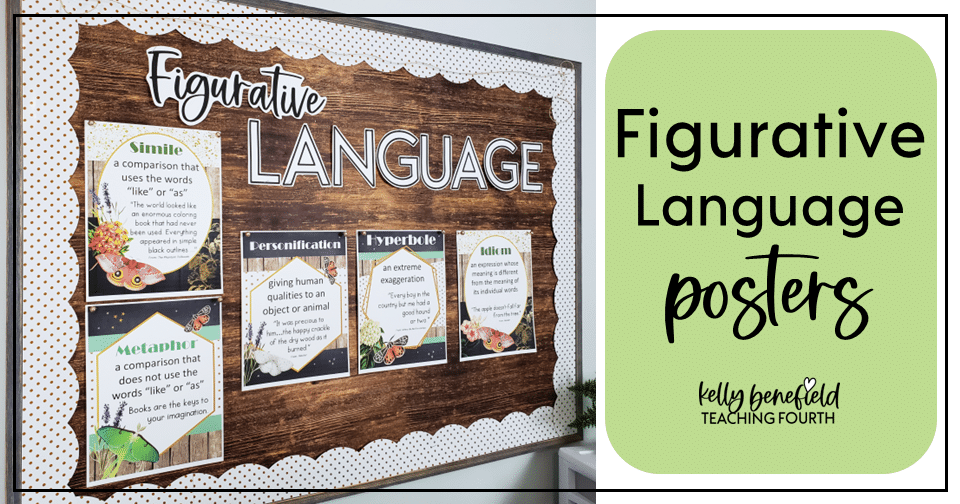 Figurative language posters are always a great choice for a bulletin board if you teach upper elementary or middle school reading/language arts classes. Figurative language is an important reading standard that is taught throughout the year in upper grades. It can be a confusing concept to students, so displaying figurative language definitions and examples throughout the year is very beneficial to your students.
Using figurative language posters are great decorating ideas for an upper elementary classroom.
Understanding figurative language is an important reading skill.
Understanding and recognizing figurative language can help improve comprehension.
Displaying posters with the types of figurative language, the definition, and an example can help students better recognize figurative language in their own reading.
Meaningful classroom decor
TWO: Decorating Ideas for an ELA Classroom – Motivational Posters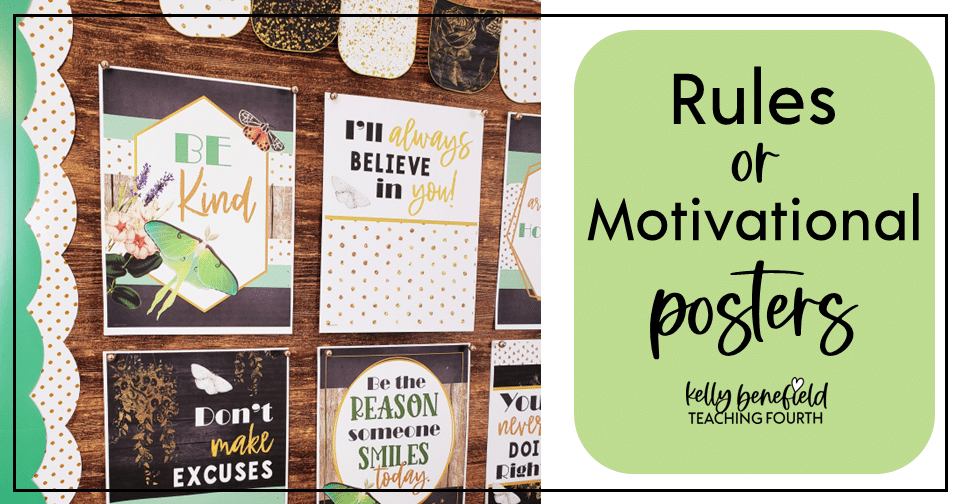 Whether you use rules or motivational posters (see my post HERE about why I choose to post motivational posters in my classroom), classroom expectations should be posted front and center in every classroom. Your students need to know what is expected of them each day, and they will often need reminders of these expectations.
Using motivational posters like the posters above to decorate a bulletin board is a great use of that space and a great way to include meaningful decor in your classroom. or you may choose to make a single poster of classroom rules and expectations.
THREE: Decorating Ideas for an ELA Classroom – Parts of Speech Posters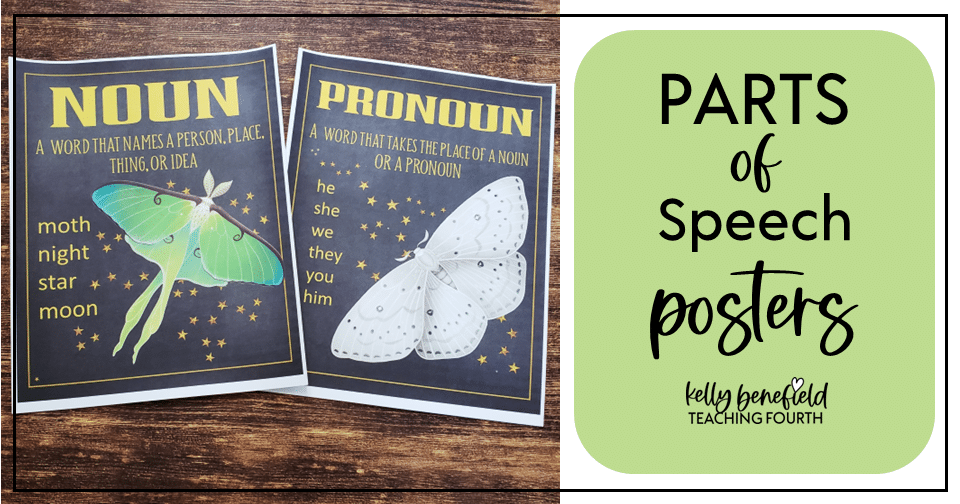 If you teach grammar, parts of speech posters are a great resource to have in your classroom. Students can refer to the posters for other grammar activities and assignments throughout the entire year. I have had many teachers tell me that grammar posters have been very useful and beneficial in their classroom.
Once again, choosing posters or resources for your classroom decor that are beneficial to your students makes your classroom decor meaningful and useful.
FOUR: Decorating Ideas for an ELA Classroom – Keep It Simple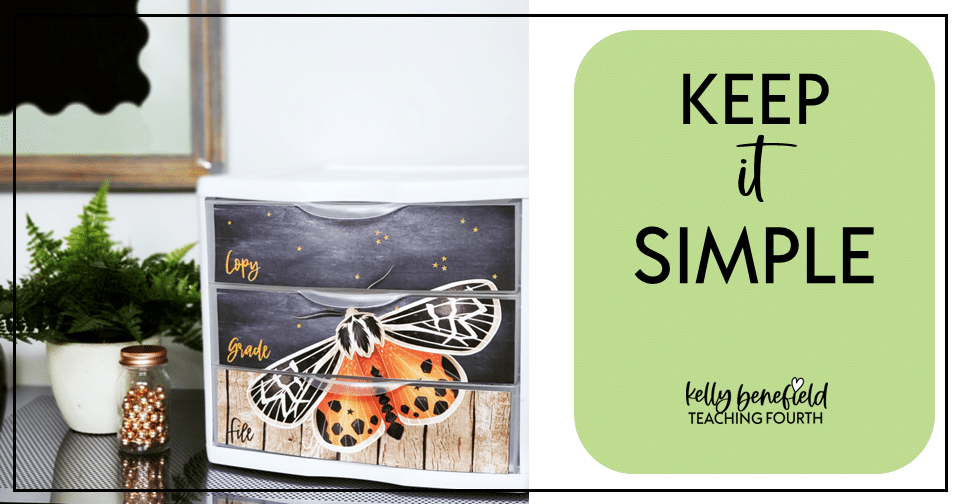 Decorating your classroom does not have to be difficult or elaborate. In fact, every surface of your classroom does not have to be decorated. Keep it simple. If you have two bulletin boards, then decorate them. Leave wall space empty.
FIVE: Decorating Ideas for an ELA Classroom – Leave Space for Student Work
By leaving empty space, you can keep room available to display your students' work throughout the year. Students love seeing their work displayed, so by not decorating every inch of space, you will have plenty of room for student displays.
Whether you choose to decorate your classroom with a theme, matching colors, or with whatever is in your supply closet, just remember to keep it simple and meaningful! Classroom decoration is just one small part of teaching.
For even more classroom decorating ideas, check out my other posts:
Farmhouse Classroom Decor Reveal
Have a blessed day and happy decorating!
Kelly