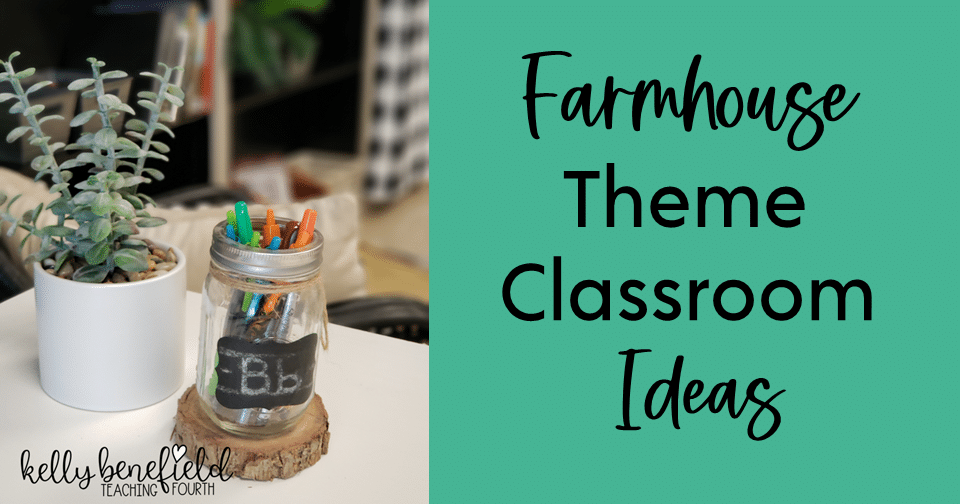 A farmhouse theme classroom can be such a calming and welcoming space. This look can be easily created. Transform your classroom with these simple ideas.
I love a pretty classroom. Although I realize that classroom decor is not the most important aspect of teaching,  having a pretty classroom makes a nice work environment, not only for my students but for me as well. I also realize that decorating a classroom can cost a teacher a lot of money and time.
Today, I am beginning a series of blog posts full of simple ideas for classroom themes, and I am starting with my Farmhouse Themed Classroom! (For my Farmhouse Classroom Decor Kit, click HERE.)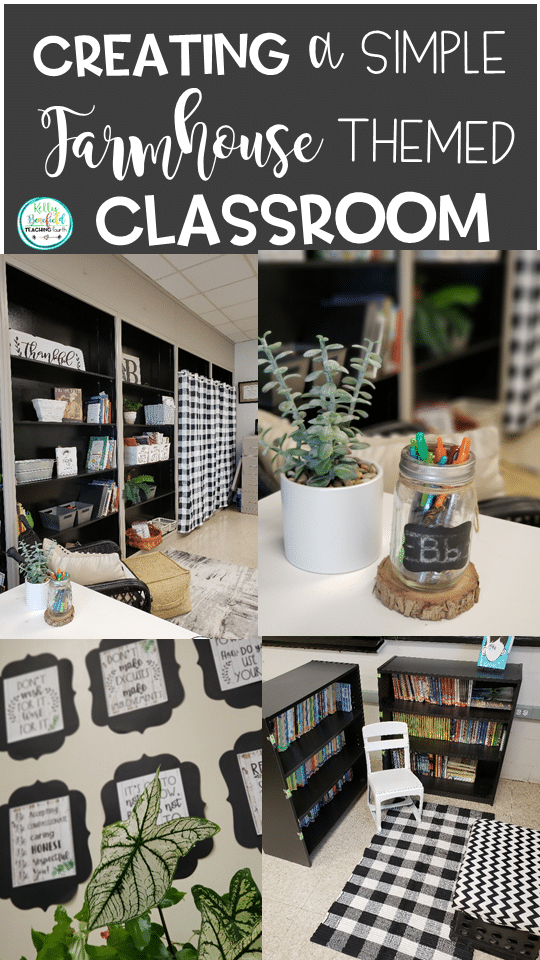 Now, I did not jump on board with the farmhouse theme classroom in the beginning. I loved the farmhouse look for my home, but I just did not buy into the idea of using it in my classroom.
When I finally decided it was time to give up my bold and bright color scheme and try something different, I chose to go with the farmhouse look, and I was so happy with the results! I have had a tremendous amount of compliments on my classroom, and I have even had visitors from our central office and from other schools pop in just to see my room.
There are 3 main reasons that I love my farmhouse classroom:
Simplicity of the design
Calming Colors
Minimal Visual Distractions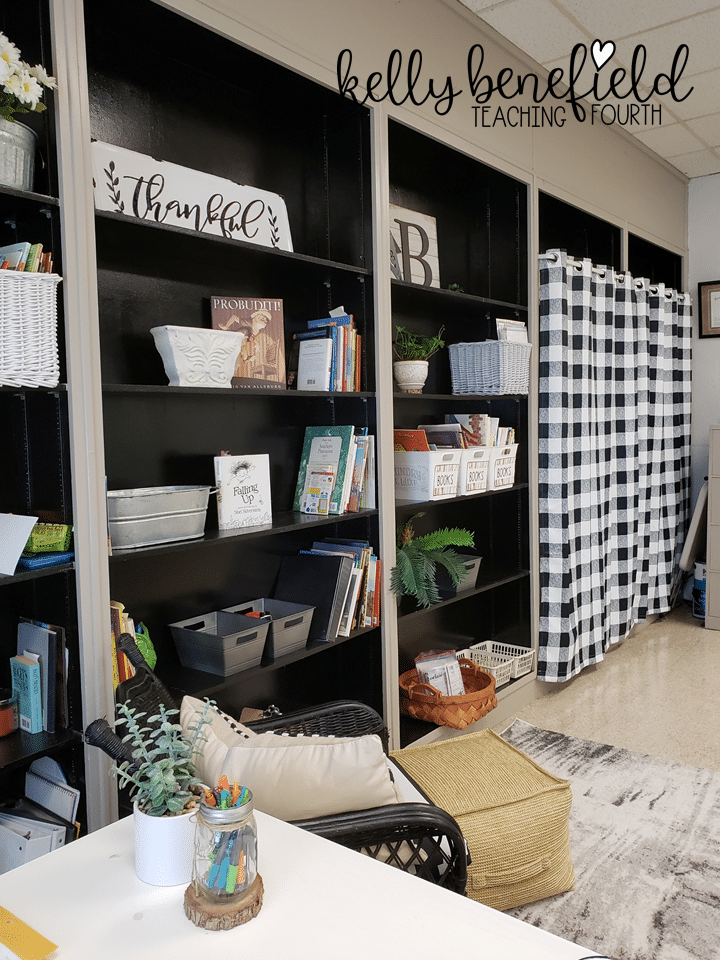 Simple Ideas for Creating a Farmhouse Theme Classroom
My take on a farmhouse classroom theme is simplistic. I didn't want to go overboard, plus I didn't want to spend much money of my own. In fact, the only purchases that I made for this classroom were two sets of curtains, a couple of galvanized containers, a few bulletin board supplies, and two rugs: one large and one small.
Everything else was given to me, re-purposed, or came out of my own house (something stored in my basement or attic).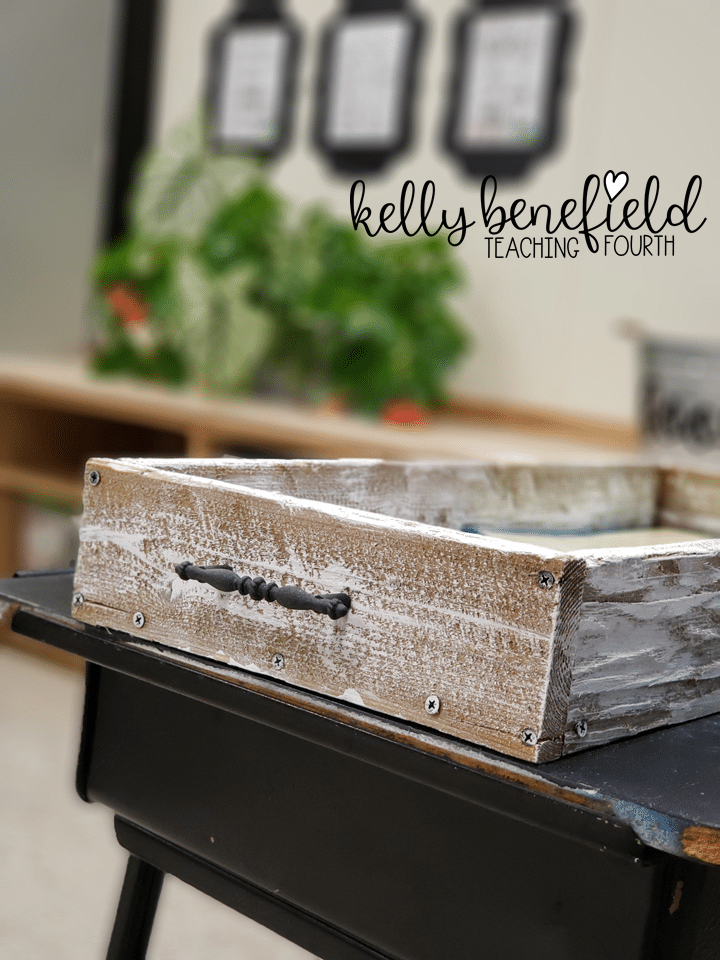 To create my farmhouse-themed classroom, I began with a black and white color scheme. I love this because these simple colors create such a calming classroom. Also, I have bright kelly green chairs that I must work with, so the neutral colors don't compete with the bold green.
I already had one set of black and white curtains in my classroom, and I had a black wicker chair sitting in my basement that I knew would look perfect in my classroom. I painted a blue picture frame that I had previously used in my classroom, silver, and hung a wreath that I had at home in the center.
Galvanized buckets are perfect for a farmhouse theme. I live on a small farm, so I had a few around our home. I gathered galvanized buckets and containers from home, painted a few green plastic bins silver, and my transition to my farmhouse classroom was starting.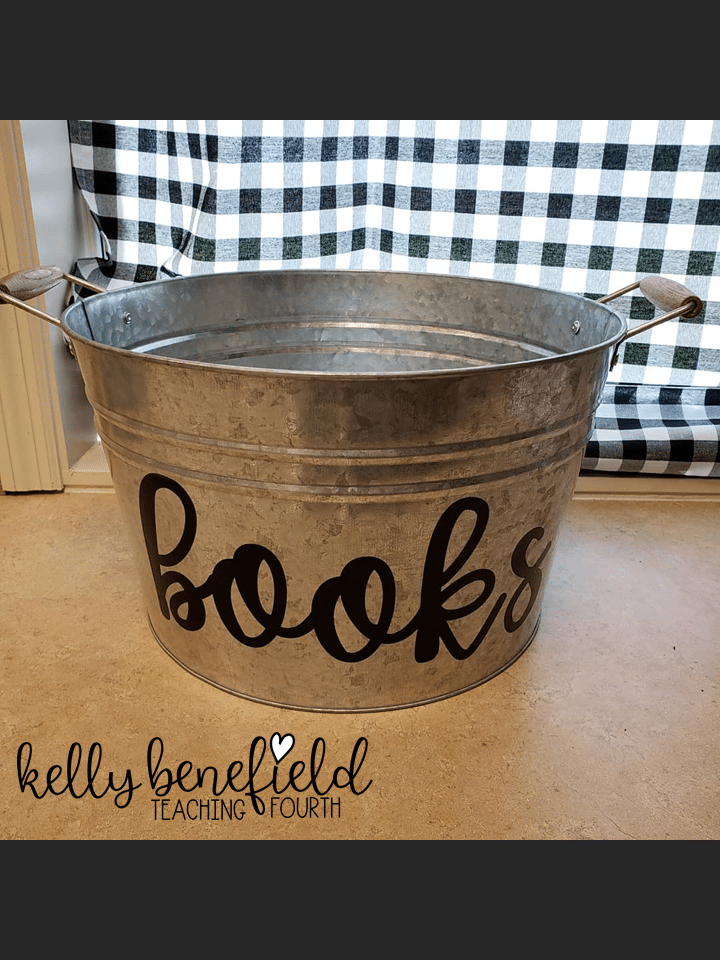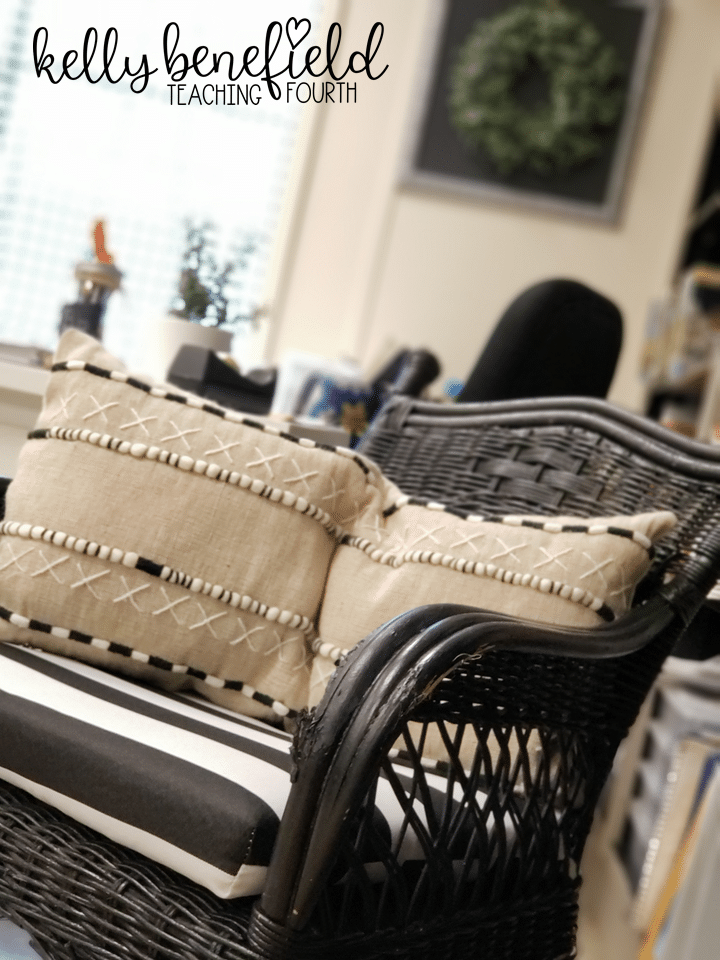 I have two bulletin boards in my classroom, so on one board, I created a grammar bulletin board set. I teach reading and language arts to two homerooms, so having a grammar bulletin board as a reference throughout the year is perfect.
I used a galvanized metal-look background paper. Then I layered a black scalloped border with a wood grain-look border. On each end, I used a burlap ribbon that I scrunched and stapled. I finished the corner with a burlap decoration that I came from Hobby Lobby. This bulletin board can be found HERE.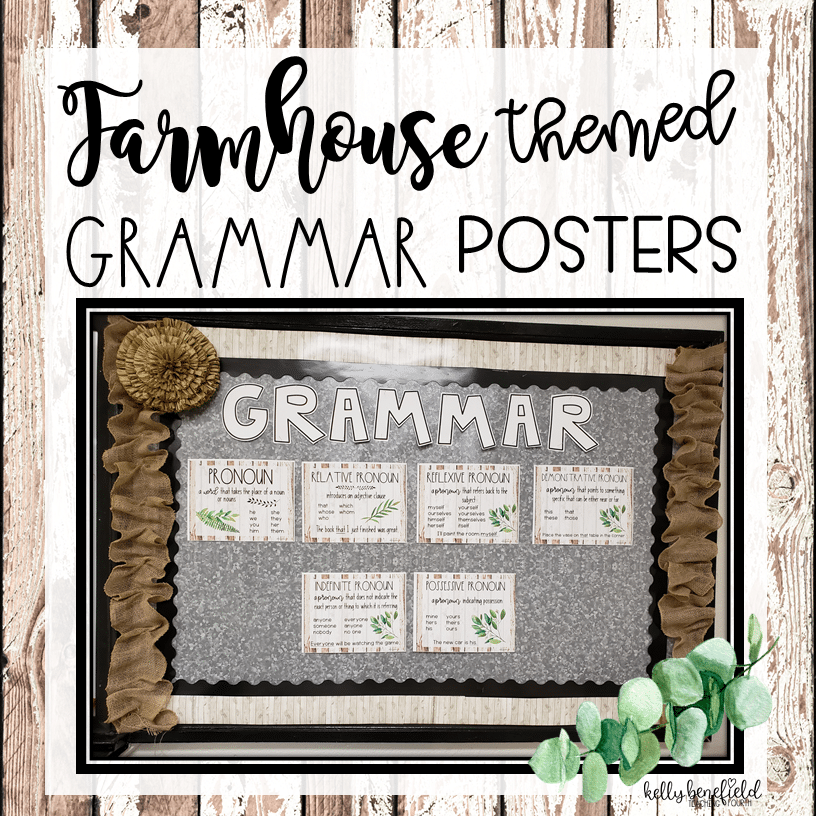 I created another bulletin board for reading using the same borders and background paper, and I loved how this one turned out! It reflects my philosophy of reading so perfectly! This farmhouse theme bulletin board is so simple to put together, and it looks great!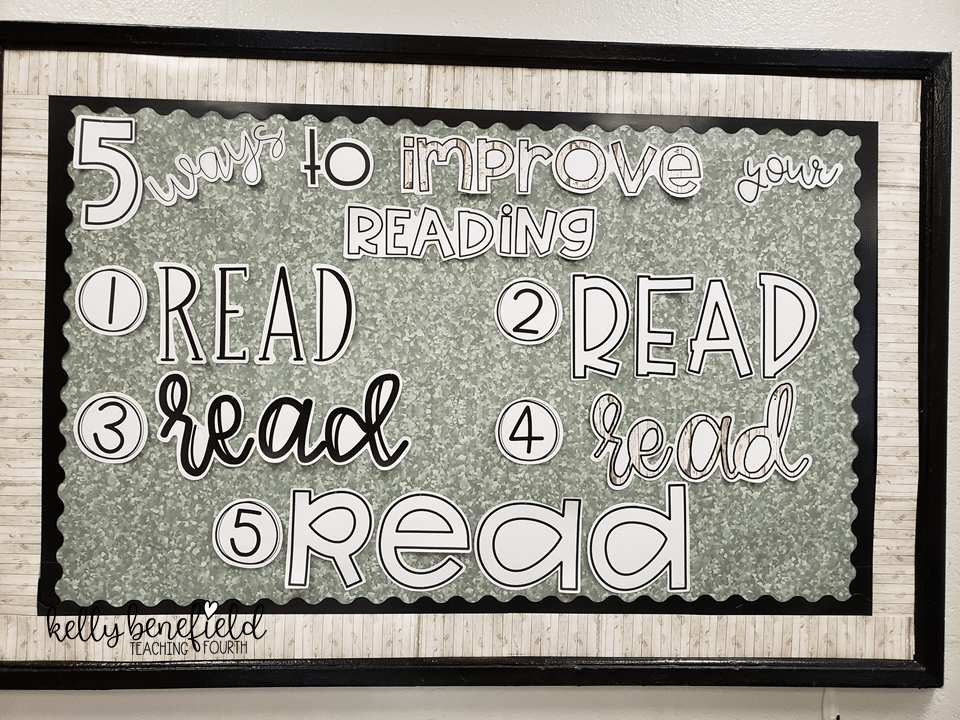 Finally, on a blank wall, I hung my Farmhouse Motivational Posters. (In my classroom, motivational posters are always a must for me!) I layered this on top of black paper placemats that I found at Hobby Lobby.  I love this set of motivational posters for my farmhouse theme classroom! I reference them throughout the entire school year.
Creating a farmhouse theme in your classroom can be easy by simply creating a couple of farmhouse themed bulletin boards in your classroom and adding some black and white accents.
I can't count how many compliments that I have had on this classroom… from students, parents, fellow teachers. This farmhouse theme classroom is simply the calming and welcoming space that I have always dreamed of having in my classroom. 
For more ideas on motivational posters, check out my blog post HERE.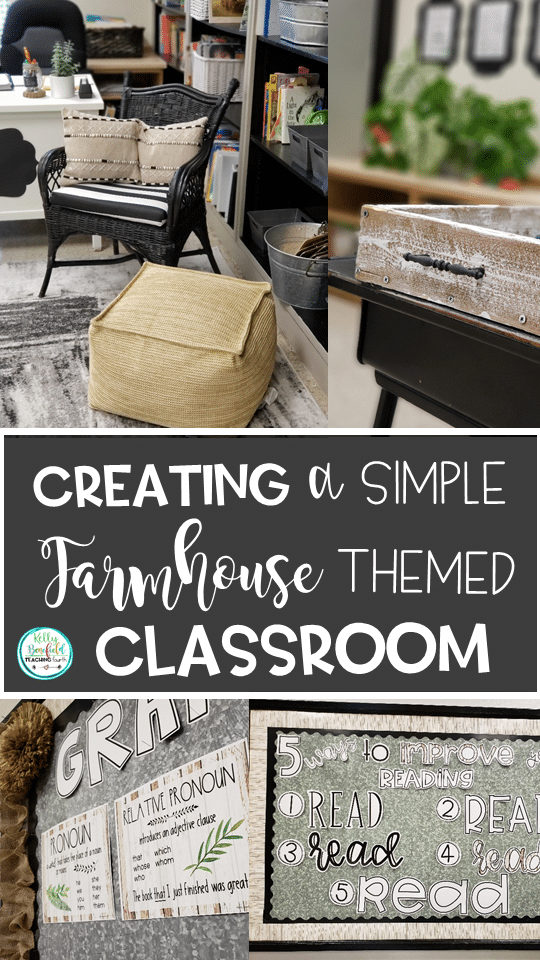 Have a blessed day, and enjoy creating a calming farmhouse theme space!