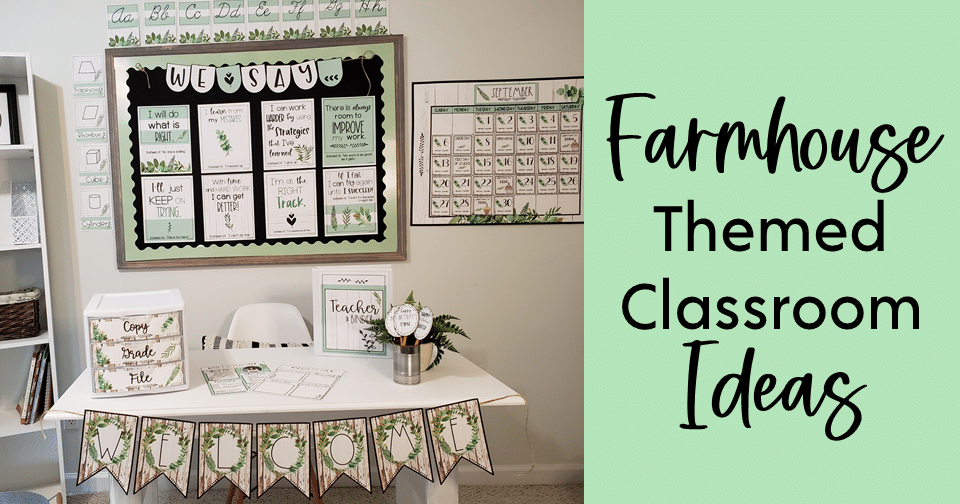 I love to decorate my classroom because I love creating a welcoming space for my students.  When I decorate, I try to create a beautiful and functional classroom that will last the entire school year. By this I mean that I try to incorporate functional décor into all of my bulletin boards and décor items. My bulletin boards and decorations always have a purpose in my classroom. I like to create meaningful bulletin boards and use my wall space and bulletin board space for teaching.  
Of all of my classroom themes and decorations, my farmhouse classroom has received more compliments than any other classroom décor that I have ever used. I think the calmness that is created with this décor is so visually appealing to so many. For me personally, the colors help create a calming space. Here are some simple farmhouse themed classroom ideas that you can easily incorporate into your classroom.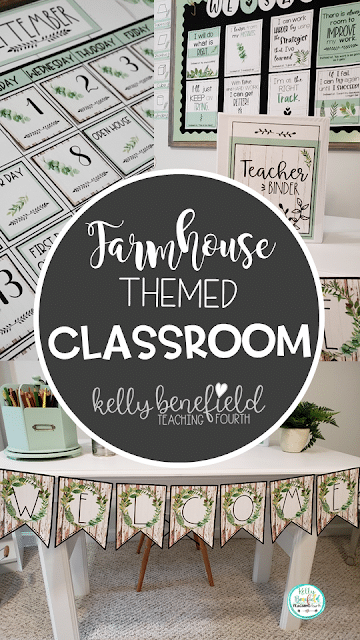 There are many takes on a farmhouse theme classroom. I especially love this combination of black and white with touches of sage green. For creating a similar look, use black bulletin board paper or fabric to cover the backgrounds of your boards. A nice sage green border compliments the posters and calendar.  
 This
Farmhouse Classroom Décor Kit
is a perfect example of how a farmhouse theme can create a relaxing atmosphere in your classroom. 
To begin creating your farmhouse themed classroom, gather baskets, galvanized containers, wooden crates and boxes, and Mason jars. My favorite item to use in my farmhouse themed classroom is not only functional but free… tin cans! They can be used for so many storage needs. Simplicity is key to this decor. Another great added touch for a fresh farmhouse themed classroom is to add plants. Ferns are always a nice touch, but I had a beautiful potted caladium that was perfect for my classroom.
To cursive and manuscript letters posters, 2-D and 3-D shapes posters, and banner letters to spell anything that you need for your classroom.
You'll also find meet the teacher templates and newsletter templates along with several other editable items in this packet.
Create your own storage labels for a three drawer storage bin along with several other storage labels at various sizes. All of which come completely editable.
Blessings & happy decorating!