With fall in the air and Halloween approaching, it is the perfect time to sprinkle in a little writing magic into your classroom. What better way to spark your students's imaginations than with spook-tacular writing prompts? Read on to find some fun writing ideas and Halloween writing prompts for 4th grade that are perfect for October.
Around my house, October usually means that candy corn begins to appear. My oldest daughter likes this sweet treat and cannot resist getting at least one bag during the month. While this sweet treat is a little too sweet for my taste, it can make for fun classroom activities.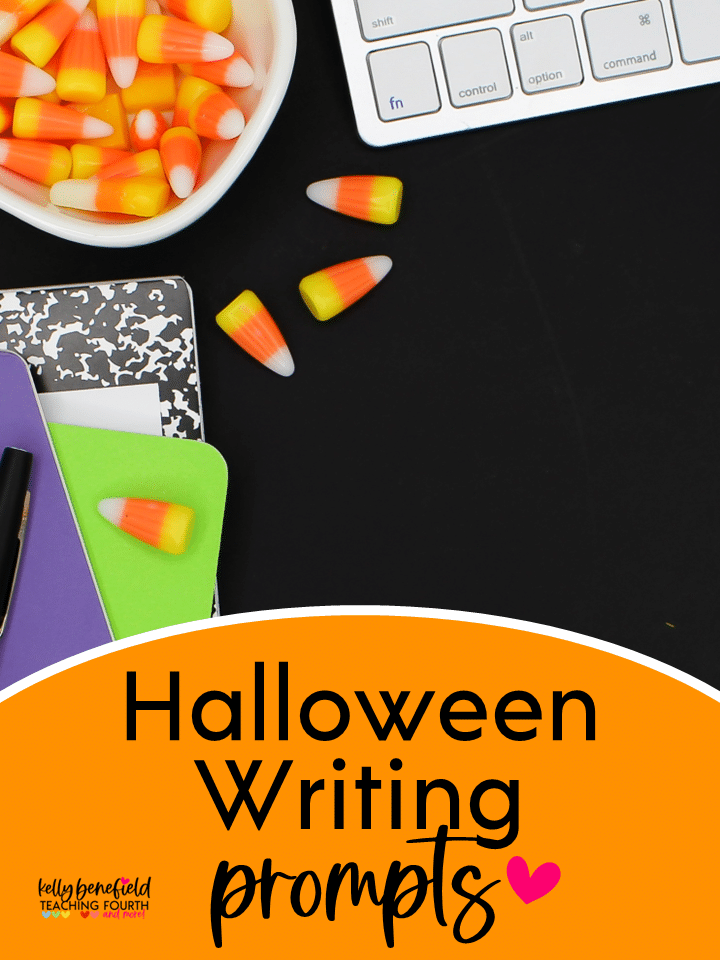 Using Candy Corn to Motivate Writers
Sweeten up the writing experience with these fun candy corn-inspired activities.
Candy Corn Descriptive Writing– Give each student two or three pieces of candy corn. Ask students to carefully observe the candy and write a detailed, descriptive paragraph describing its color, texture, and taste. Encourage the use of sensory language to make their descriptions vivid and engaging. For an added bonus, students can use figurative language as well.
Candy Corn Persuasive Writing- Have students pretend that they are the official spokesperson for candy corn. It is their job to persuade others to appreciate the taste and deliciousness of this treat. Students should write a persuasive essay advocating for the love of candy corn.
Candy Corn Opinion Writing– Find 3 types of candy corn, for example, classic, pumpkins, harvest corn, caramel apple, etc. Give each student one of each. Students should try each type of candy corn and write an opinion paper explaining which type is the best.
27 More Halloween Writing Prompts for 4th Grade
Take a look below for even more Halloween writing prompts for 4th grade that are perfect for October.
Describe the perfect Halloween costume and explain why it is so special.
Write a story about a talking pumpkin.
Write a letter to a friend inviting him to a fall carnival.
Describe a fall night where the moon is brighter than usual.
Write a story about a scaredy-cat and a brave cat on Halloween night.
Write a story in which your town creates a new Halloween tradition.
Write a story about the adventures of a trick-or-treating superhero.
Think of your favorite fictional character. Write a story about you and this character going trick-or-treating together.
Write a story about a Halloween treasure hunt.
Write a story about a magical pen that brings your Halloween drawings to life.
Write a story about seeing a shooting star on Halloween night and making a wish that comes true.
Write a story about a Halloween night where the clouds form unusual shapes.
Write a story about a Halloween parade in your town.
Write an essay describing the sights, sounds, and smells of a fall festival.
If you could design your own game for a fall carnival, what would it be? Write a paper describing it.
Write a poem about the joy of picking the perfect pumpkin at the pumpkin farm.
Write a story about a surprising encounter at a corn maze.
Imagine that you find a secret passage at a corn maze. Where does it lead?
Write a story about spending the day working at the pumpkin farm.
Write a story about a magical Halloween candy bag.
Imagine you are the owner of a famous corn maze. Write a story telling about the challenges you face, and how you make it special.
Write a story about a magical pumpkin that grants wishes.
Write a story about going through a corn maze with your best friend.
Write a story about trick-or-treating with a group of friends.
Design an amazing trunk for trunk-or-treating. Write an essay to describe your creation.
Write a story about a Halloween with no candy.
Write a story about the day you discovered a hidden pumpkin patch in the forest.
October Writing Packet
Writing can be overwhelming for students. They often do not know where to begin. This is why I like to provide prompts to my students. Providing writing prompts can help students push past writer's block. Sometimes students simply need help with ideas for getting started with writing, and writing prompts can do just that.
There is another tool that I think helps students overcome the overwhelm of writing, and that is graphic organizers.
When students use graphic organizers, this allows them to utilize prewriting. Prewriting is an important step in writing that helps students brainstorm ideas for their writing. Graphic organizers also help students organize their writing for a better flow.
If you are searching for October or Halloween writing prompts for 4th grade and graphic organizers, then check out my October Writing Prompts Packet. It is filled with fun writing prompts that are perfect for the month of October. You will not only find Halloween writing prompts, but it contains writing prompts for fun and unusual October holidays as well like Make a Difference Day, National Grouch Day, National Pumpkin Day, and more.
Brightly colored writing task cards can be used in writing centers, small groups, or displayed for whole group use. Your students will enjoy the fun writing prompts, and you will enjoy how simple it is to use.
Looking for more fun ideas for fall writing? Check out my blog post here.