Tall tales are stories that include extreme exaggerations and characters who solve problems in unbelievable ways. These characters usually seem much larger than life. Unfortunately, tall tales often get overlooked in upper elementary. Why then is using this genre and teaching tall tales in upper elementary a good idea?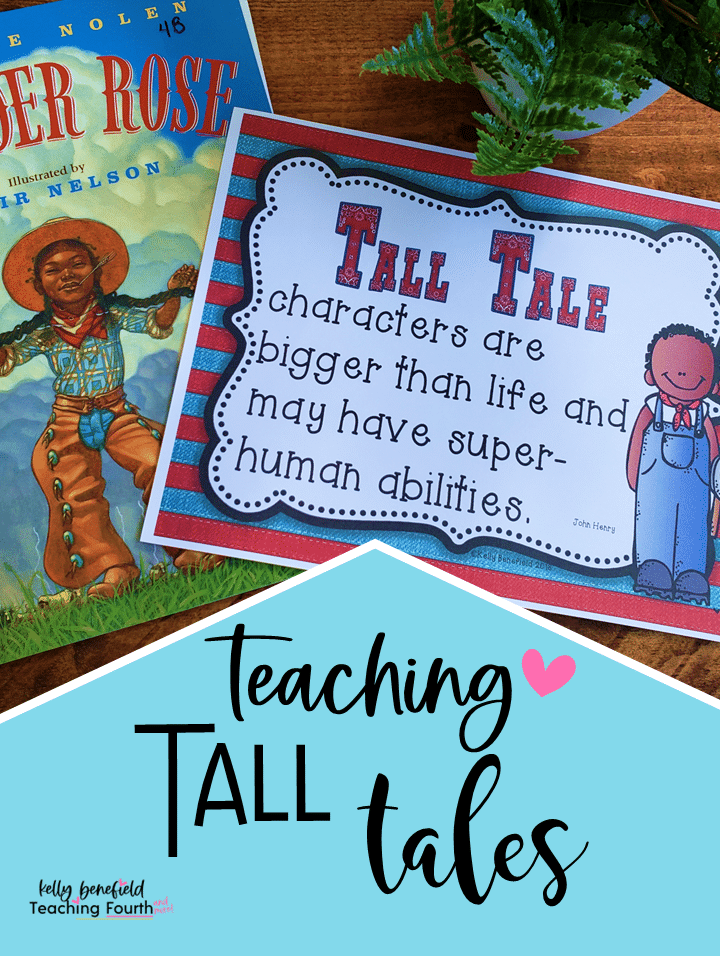 Why Should We Be Teaching Tall Tales in Upper Elementary?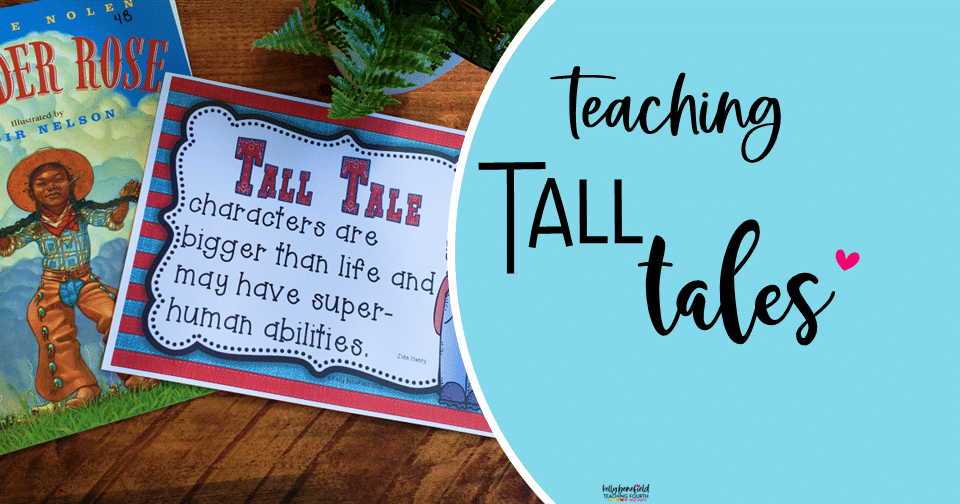 Tall tales are a great way to add some fun to your reading. Plus they are fabulous for teaching story elements like characters, setting, and plot in a creative way. For even more ideas for teaching reading and story elements, check out my blog post here.
Here are a few reasons why teaching tall tales in upper elementary is a great idea:
Engagement Boost: Tall tales are packed with adventure, humor, and characters with superhuman abilities. This keeps your students hooked and eager to find out what happens next.
Figurative Language: Tall tales are often filled with excellent examples of figurative language such as similes and metaphors, and are always filled with hyperbole! Tall tales make a great addition when diving into figurative language.
Character analysis: Tall tales are an excellent choice when studying characters, character analysis, and character traits. Take a deep dive into the character with tall tales.
My Favorite Tall Tale Books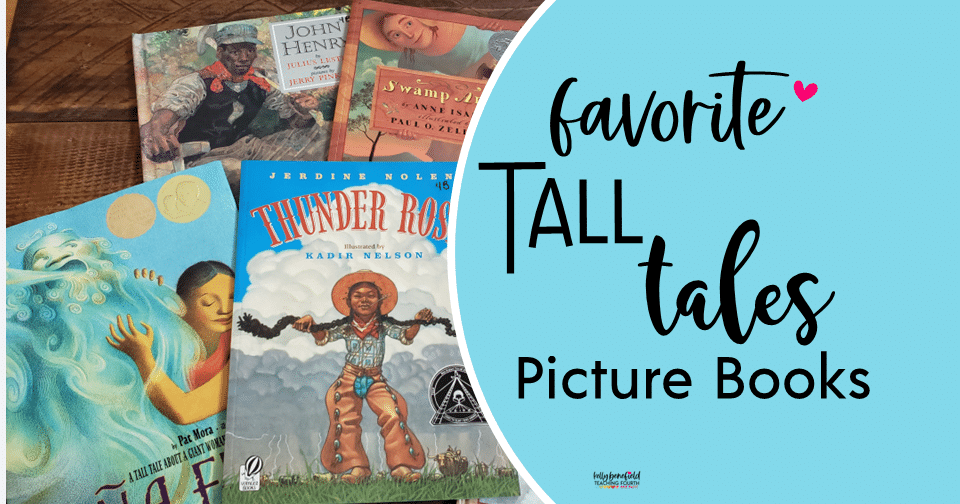 Swamp Angel is a tall tale set in the Appalachian Mountains. The main character, Angelica, is larger than life, literally, and encounters many problems. This is so much fun to use as a read-aloud and is an excellent choice for discovering similes.
Thunder Rose is another favorite! The hero, Thunder Rose, is a wonderful wild-west character that upper-grade students will love! The main character faces many challenges in the book, and the story is full of exaggerations and wonderful figurative language. This book also makes an excellent story to chart characterization.
Dona Flor is not only my absolute favorite tall tale book it is also one of my favorite picture books. It is a must-read whether you are teaching a unit on tall tales or not! So many lessons can be modeled with this fun book such as character, setting, problem/solution, personification, similes, and of course, characteristics of tall tales. The illustrations in this book are soft and beautiful! My students have loved this book every year, and it is such a fun book to read aloud! I can't say enough good things about this book. Just try it!
2 Fun Ideas and Activities for Teaching Tall Tales in Upper Elementary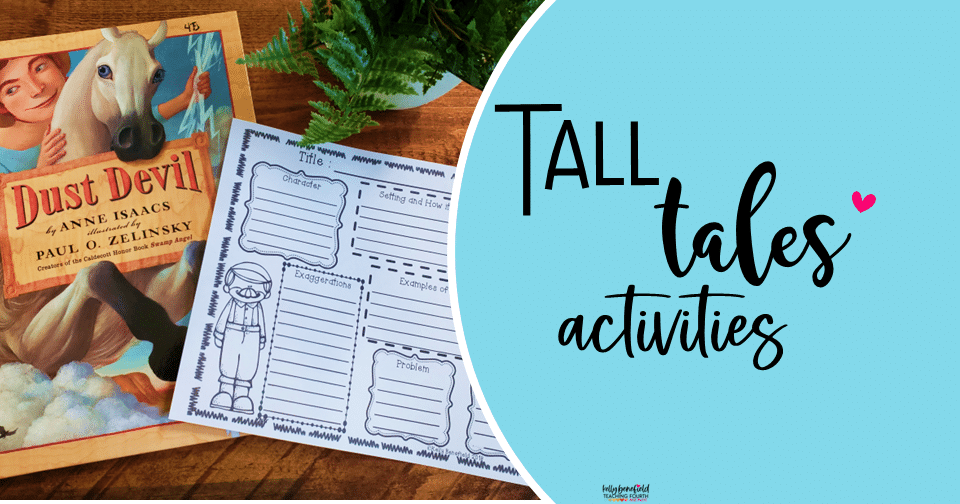 Create Your Own Tall Tale
Have students work in groups to create their own tall tale stories. Encourage them to include extreme exaggerations of characters, actions, events, and settings.
Once stories are written, have a storytelling session where each group shares their masterpiece!
Tall Tale Tug-of-War
Divide your class into two teams and assign each team a famous tall tale character like Paul Bunyan or Pecos Bill.
Have each team read stories to create a list of exaggerated traits for their character. Then they present their list to the class.
Engage in a friendly tug-of-war where teams take turns presenting their character's feats, and the class votes on the most outrageous and entertaining tale.
Teaching Tall Tales Anchor Charts and More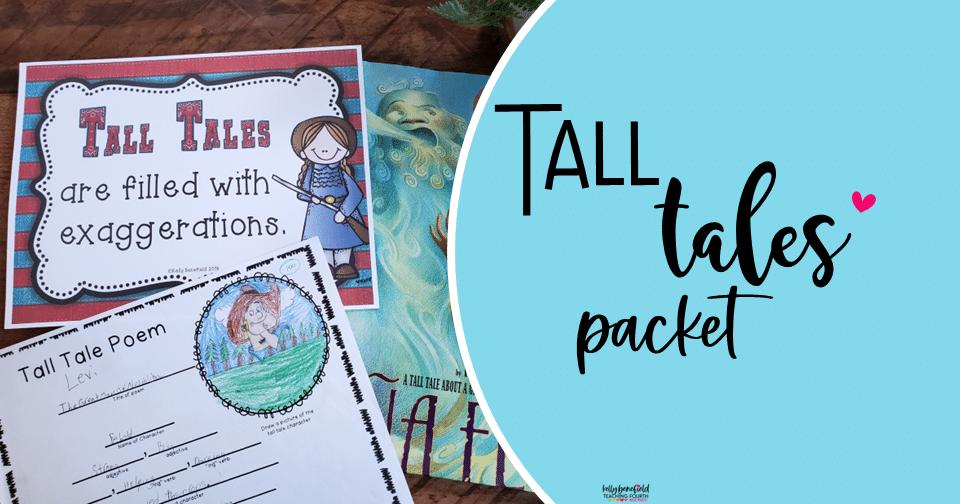 Having resources in your toolbelt ready to go can make teaching tall tales easier for you, and if you are looking for even more tall tale activities and resources to supplement your tall tale lessons, I have a great resource for you. My Tall Tales Packet contains posters, writing prompts, graphic organizers, and activities that can be used with almost any tall tale book, story, or unit.
Anchor charts are always a plus, and these tall tale anchor charts are a great addition to your tall tales lessons. Seven full-color and black-and-white tall tale characteristics posters are included. Fourteen graphic organizers can be used to help students dive into the text. Writing prompts, a writing activity, and a poetry activity are all included for you to use as you are teaching tall tales in upper elementary.
Be sure to check out the Tall Tales Packet Here.
Save These Ideas on Pinterest
Click the image below and save it to your Pinterest to use later.