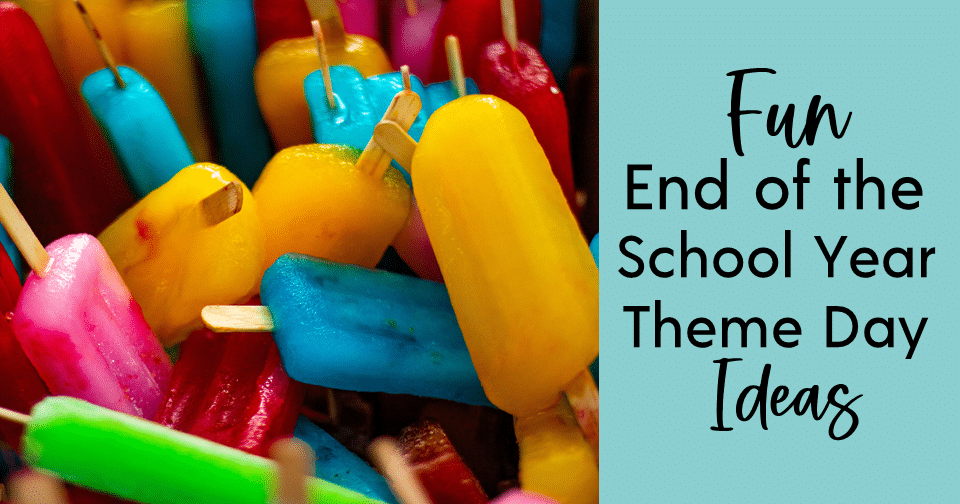 End-of-the-School-Year Theme Day Ideas
The end of the school year can contain so many emotions for both teachers and students, especially in a year like this one. Emotions can range from excitement to sadness and everywhere in between. No matter where you and your students fall in the spectrum, finding and creating fun end-of-the-school-year theme day ideas is an important way to help the school year-end on a great note.
Personally, in years past, I have spent countless hours searching for fun ideas and activities for the last week of school and ways to celebrate the end of the school year. To help you save hours of searching, I am sharing an easy and simple idea to make the end of the year or your last week of school one your students will never forget by having a Popsicle Theme End of the School Year Celebration!.
Popsicle Theme Day
Fun End of the School Year Ideas and Activities
Are you looking for a great way to celebrate your end of the school year with your students? Why not try Popsicle Theme Day! Students love theme days, and the end of the year is a perfect time to celebrate and kick off the summer. Choose one day during the last week or close to the end of the year for this special activity. Then gather a few simple supplies and get started with Popsicle Theme Day!
Give Invitations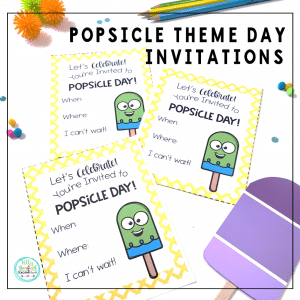 Build up excitement for this special day by creating simple invitations. The day before your Popsicle Theme Day, give each student an invitation letting them know that they are invited to "Popsicle Day" on the following day. Invitations can be very simple to make and do not have to take a lot of time. Simply print out, "You are invited to Popsicle Day tomorrow!" on strips of paper and give one to each student, or you can create fancy invitations for your class. It is up to you.
Decorate (Totally Optional!)
This next step is totally optional. If you would like to decorate your room, you could purchase a popsicle swimming pool float or two to place in your classroom. Hang brightly colored streamers across your ceiling, and place bright plastic tablecloths on your tables. If you would like to take your décor up a notch, you can easily find popsicle party décor at Oriental Trading (no affiliate). It is totally up to you. Your students will still have a blast with or without the classroom décor.
Introduce Day with 4 Corners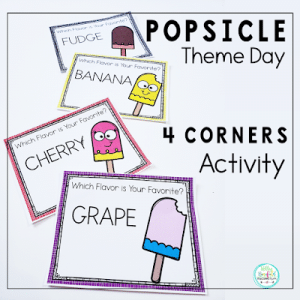 On Popsicle Day begin with playing four corners. Choose four flavors of popsicles (e.g.: grape, orange, cherry, firecracker) and write each flavor on a piece of paper. Post one paper in each corner of your room. To begin, ask your students which flavor is their least favorite? Students may walk to a corner, or with social distancing, you may call one group at a time or simply point at the corner. Discuss choices students have made. Then have students return to desks. Next, repeat with the question, "Which flavor have you never eaten?" If students have tried all flavors, they would remain seated. If students have more than one flavor that they have not tried, they may stand by one flavor and point to the other one. Discuss and allow students to return to their seats. Now ask students, "Which is your favorite flavor?" and repeat the process. You may want to chart each question with the number of students who chose each flavor for the math activity below.
Popsicle Poetry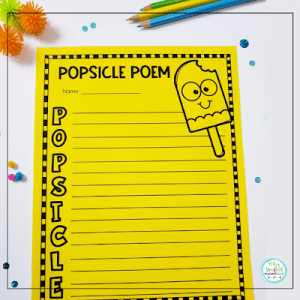 Next, let students write poems about popsicles. Have students write the word, "Popsicle" vertically down a piece of paper. Students will use each letter in "popsicle" to write a word, phrase, or sentence about popsicles to create an acrostic poem. Students may color paper and cut out the popsicle image to place at the top of the poem.
Popsicle Stick Kinetic Energy Activity
For an exciting science activity, you will simply need popsicle sticks to demonstrate kinetic energy. This experiment found here at
Steve Spangler Science.
You will find a great video and tutorial about the experiment in the link above. Show the video to your students then provide instructions on weaving the popsicle sticks. Give groups of students enough popsicle sticks to complete the activity, or if desired, simply demonstrate the activity to your class. They will surely be amazed and mesmerized!
Popsicle Math
Tie in math and let students graph the results from the four corners favorites and least favorite flavors (see idea above). Chart the results of the number of students who chose each flavor as their favorite and least favorite flavors. You could simply write these results on the whiteboard (ex.: cherry- 4, grape-6, banana- 8, fudge- 3). Provide each student with a copy of a
bar graph template
. Students use the data charted on the board to complete a popsicle graph.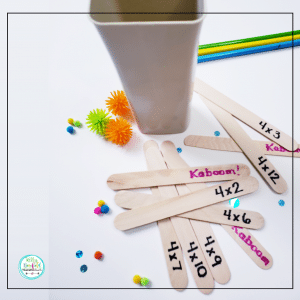 Another great game to play to tie in popsicles is Kaboom. While this game does not involve a popsicle, it will require plenty of popsicle sticks and some prep before your Popsicle Day. If you are not familiar with Kaboom, simply follow the instructions below. You will need to make a Kaboom game for each group of 3-5 students.
To play:
Write multiplication problems on 25-30 popsicle sticks.
Write "Kaboom" on 3 or 4 popsicle sticks.
Place sticks in a plastic cup or container with math problems/words facing down.
Divide students into groups of 3-5.
The first student draws a popsicle stick and solves the problem.
If the problem is correct, the student keeps the popsicle stick. If it is incorrect, the stick goes back in the jar.
Play continues with the next student.
If a student draws a "kaboom," all of that student's sticks must go back into the jar.
Popsicle Reading
Tie in reading to your end-of-the-school-year theme day ideas by having students read from
Wonderopolis
and
Readworks
. Both of these sites are free, and
Readworks
simply requires you to create a free account. Students will enjoy reading about "
The First Ice Cream Man" on Wonderopolis
and watching a short video about ice cream trucks. For a 2nd-grade level reading about "
Who Invented the Popsicle
?" check out this article on
Readworks
, or for a 6th-grade article that goes along with the video from
Wonderopolis
, have students read "
The Inside Scoop
."
Popsicle Bookmarks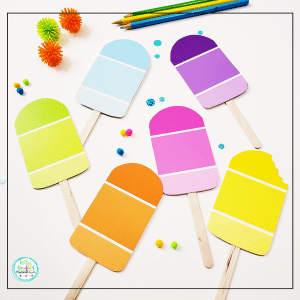 For summer reading, gather brightly colored paint chips from your local paint store. You will need enough for your entire class. Cut out popsicle shapes from the paint chips and glue each shape onto a popsicle stick to create fun bookmarks for your students to use this summer with their summer reading.
Popsicle Writing
Let students write about their "Cool Summer Plans" with this fun summer popsicle craft idea. Students will write about their summer goals and 5 things they hope to do or accomplish this summer. They will also write about one new thing they would like to try, learn, or do this summer and the 3 things they will need to reach this goal. All of this is written on these adorable keepsake popsicle flipbooks that your students and their parents will love and treasure.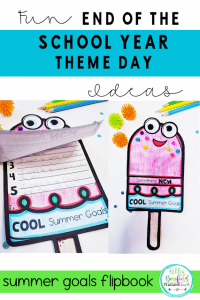 This popsicle writing activity along with the acrostic poem page, party invitations, and 4 corners posters can all be found in my
End of the Year Activities Bundle
. You'll find these activities along with 7 other great end-of-the-school-year activities.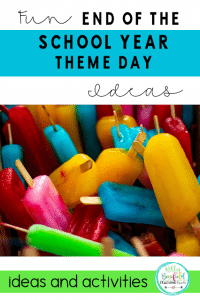 Last, but not least, if allowed by your school, give each student a popsicle for a fabulous end of the school year treat. Your students will love this fun-filled popsicle-themed day, and wonderful end-of-school memories will be created for you and your students!
Be blessed!