April is the perfect time for celebrating nature and the beauty of our planet. Also, it is the perfect time to remind our students of our responsibilities to keep our planet healthy and incorporate some Earth Day themed activities into your lessons.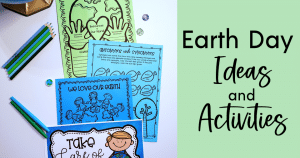 My family and I live on a small farm, and a big part of farm life is striving to be good stewards of our land. We personally strive to take care of the earth, conserve, and simply do our part in preserving our beautiful world. One of my personal pet peeves is for people to throw trash out of car windows. In our area, this is a big problem, and I'm always saddened to find that so many students find this act normal and ok. Because of this, I always try to find the time whether it is in April, or even at the beginning of the year, to encourage students to make changes in their habits to keep our planet healthy and beautiful.
Earth Day Activities
Here are some simple and easy ideas that are not only great for April and Earth Day, but they are also perfect for anytime of the year when you are studying ecology, protecting the environment, or reduce, reuse and recycle. Also, be sure to download the Earth Day Freebie below to use with your class.
✔️Ask permission from your administration for your class to participate in acts of environmental kindness around your school campus. Take 15 or 20 minutes to do one or more of the following activities.
Pick up trash around your school.
Water a flower garden at your school.
Plant flowers around your campus.
Set up a recycle bin.
✔️Encourage students to promote environmental kindness. Discuss simple changes that students can make to help our earth.
Have a blessed and beautiful day!