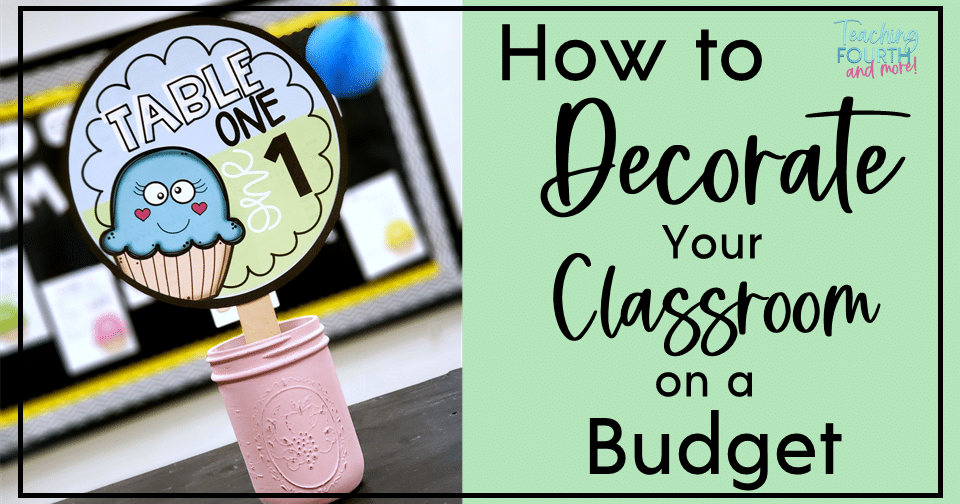 How to Decorate a Classroom on a Budget This Year
Decorating your classroom can be a lot of fun! Some teachers love it, while others hate it. I tend to love decorating my classroom. I have spent a lot of time over the years putting together my classrooms, and I have spent my own money to do this, but it does not have to be this way.  Here are some great ideas on how to decorate a classroom on a budget! 
This year, I plan to decorate my classroom on a budget, and in fact do not plan to spend a dime on classroom décor. Decorating a classroom does not have to be stressful, take all summer to complete, or break the bank. Creating a welcoming space can be a simple process that should not require that you spend a lot (or any) of your own cash. Find some simple ideas to help you decorate your classroom on a budget this year.
Here are four fabulous suggestions for how to decorate a classroom on a budget:
Work with what you already have e.g. bulletin board backgrounds and borders, existing rugs, etc. One trick that I love is to use my collection of picture books to decorate my shelves. (See the picture above for examples.) These can be changed out to change the look or choose books to color coordinate with your classroom. Perhaps you have things that you can use at home in your attic or basement (an old rug, containers, a chair, etc.) that you could use in your room. Wrong color? Then perhaps spray paint can help coordinate. Your classroom can look coordinated without going out and purchasing all new items. Also, think minimalist. Sometimes less is more! 
Bulletin boards are enough. Don't get caught up in thinking that you must decorate every square inch of every surface in your classroom. Two or three coordinating bulletin boards are enough to make your classroom look well put together. 
Your classroom theme doesn't have to be completed in one year. Build on a theme over several years. You can save a lot of money this way. Simply using the same classroom decor for several years can be a great way to save money. 
Find freebies! Search Teachers Pay Teachers for free decor for your classroom. There are tons of free items offered, so you are sure to find something free to coordinate with your decorating scheme. Be sure to check out my freebies below!
This fun set contains three choices of bulletin boards. 
Simply using these three coordinating bulletin board sets would be a perfect way to create a fun and cohesive classroom décor, but if you are looking for even more coordinating items to use in your classroom, there are several other items that are included. 
Another way on how to decorate a classroom on a budget is to find freebies! Don't forget to grab your freebies! I have two free items in my store that coordinate perfectly with this cute cupcake theme. Another great way to help you decorate your classroom on a budget is to find free items. These can be found very easily on Teachers Pay Teachers. Simply search classroom décor and filter with "free" to find amazing free resources for your classroom.
Have fun planning and decorating your classroom, and have a blessed day!