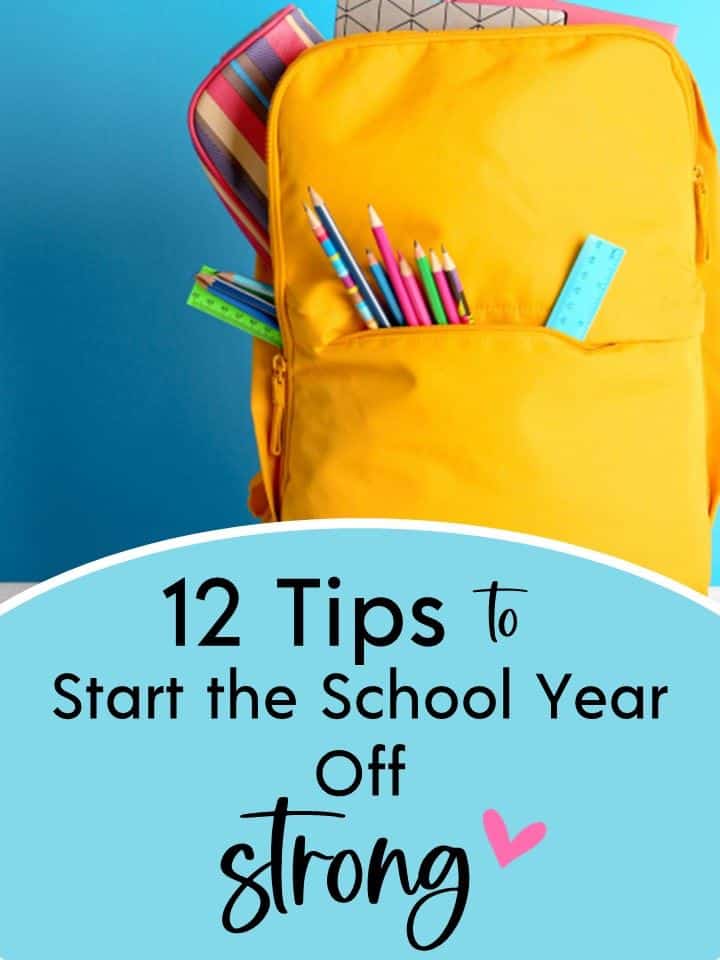 Summer for teachers always seems to fly by, and back-to-school season races here before we know it! Soon the school hallways will be filled with the laughter and excitement of our new group of students, so here are 12 great tips to start the school year strong that will help prepare you for a smooth transition into your new school year.
Whether you are a brand new teacher or a seasoned teacher, back-to-school preparation can be both exhilarating and overwhelming. Hopefully, this list will help you prepare for and navigate those first few days of school and help you set the stage for a successful school year!

12 Tips to Start the School Year Strong
Tip 1: Get Organized
While this first tip seems obvious, it can quickly become overwhelming. There are so many things to plan for and organize that can be very difficult for teachers to know where to begin. I suggest beginning with your students in mind.
Get everything ready so that your students will have what they need on day one. A well-organized classroom can set the stage for a positive learning environment. So begin by arranging desks in a way that facilitates easy movement and interaction.
Organize teaching materials, textbooks, and visual aids in a way that makes them readily accessible during lessons. Create areas for storage for student items such as lunch boxes, backpacks, and water bottles. Labeling drawers that contain supplies can help. Having a plan and everything in its place will save you valuable time and reduce distractions during teaching.
Tip 2: Establish a Positive Classroom Environment
Set clear expectations for behavior begins on day one. Creating a positive and inclusive classroom allows teachers to build positive relationships with our students and is vital for our students to thrive. When students feel valued, they are more likely to feel comfortable enough to participate in lessons. This, in turn, leads to better academic achievement.
One of my favorite ways to establish a positive classroom environment is by using motivational posters. You can find out more about these here.
Tip 3: Prepare Engaging Ice Breakers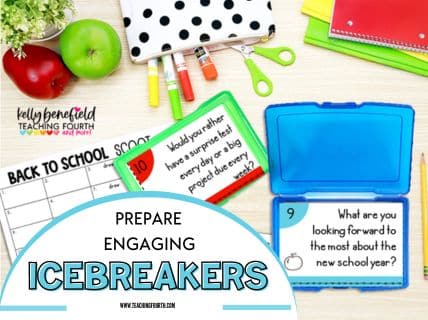 Using fun icebreakers will help your students get to know one another and feel more comfortable in their new classroom setting. Icebreakers are also a great way to encourage collaboration in your classroom.
Some of my favorite icebreakers include two truths and a lie, four corners, and Scoot.
Tip 4: Review Curriculum and Standards
This tip is geared toward new teachers. Familiarize yourself with the curriculum and standards for your grade level. Many school systems provide curriculum or pacing guides, so be sure to ask for these if you are new to your school or system. If not, ask for any resources your school may have to help you plan lessons that align with your state's standards.
Tip 5: Over-plan for Your First Week
Nothing is worse than running out of things to do on the first day of school. The first day of school (or week) sets the tone for the entire school year, want to build a positive classroom culture that recognizes the importance of participation, collaboration, engagement, and a love of learning. Create a variety of lessons and activities to engage your students, get to know your students, and establish classroom routines.
It is easy for even experienced teachers to underestimate the amount of time activities and lessons may take, so it is much better to have too many activities planned than not enough. Also, it is a great idea to have easy-to-assign worksheets or coloring pages in those needed moments when a new student is brought into your classroom and you need to talk to a new parent or another teacher who will be pulling students from your classroom needs to discuss your schedule. (I have had both of these happen on the first day of school).
I also love to have a stack of extra picture books to read to my class. Reading aloud is a great way to fill in those few extra minutes before transitioning to another activity.
Tip 6: Teach Routines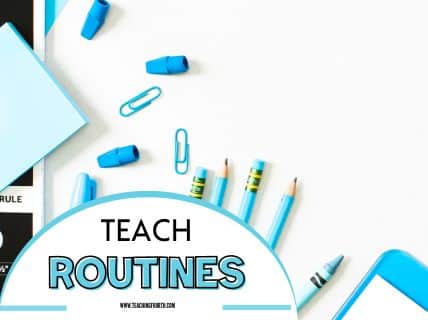 Establishing predictable daily routines can help your classroom run smoothly this year. Teaching routines such as morning routines, transition routines, independent work, group activities, and clean-up routines can help create a well-managed and orderly learning environment. Consistent routines can help your students feel confident and prepared.
Also, remember that you don't have to teach all of the routines on the first day (I have made this mistake). These can be taught throughout the first days and weeks of school. Begin by teaching the most used and most important routines. By spreading this out, it will allow you to model the routine and practice the routine. It will also allow students to become successful at each routine and not become overwhelmed.
Tip 7: Establish Relationships
Begin building relationships with your students on day 1. All About Me Posters are a great way to get to know your students and begin building relationships. They allow students to share their unique abilities, interests, and hobbies with their classmates. These easy-to-use activities help begin building positive relationships with our students by giving us insights into our students' interests.
These simple first-day activities can help reduce anxiety and help create a relaxed atmosphere on the first day of school. They also create a sense of belonging when students share their posters and see them displayed in the classroom or hallway.
Tip 8: Communicate with Families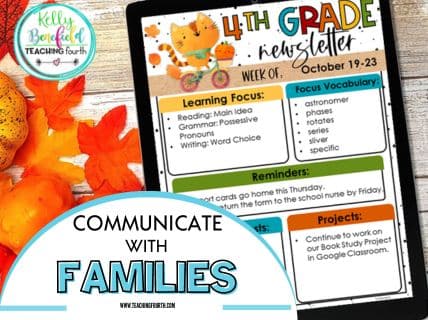 Plan the ways that you will communicate with parents this school year. Establishing open lines of communication is important to student success, and there are many different options. Whether you use email, phone calls, hand-written notes, newsletters, or technology, improved communication with parents can enhance understanding of school policies, events, and opportunities for involvement.
Keeping open communication with parents throughout the year strengthens the partnership between teachers and families, creates a supportive learning environment, and helps promote student success.
Tip 9: Create Meaningful Bulletin Boards that Can Stay Up All Year
While I personally like having a cohesive and pretty classroom, classroom decor is not essential to effective classroom teaching. If you have bulletin boards in your classroom, create bulletin boards that will be beneficial throughout the entire school year. That way you can spend more of your valuable time teaching your students.
Tip 10: Create a Welcoming Environment
Decide on a classroom theme. Whether you choose a theme or coordinating classroom colors, having a harmonizing look can create a calming and relaxing environment. Choosing similar colors or designs that are thoughtfully arranged can prevent your classroom from becoming visually overwhelming. Too many different colors or clashing colors can be distracting and overstimulating.
A thoughtfully designed and organized classroom can positively impact students' focus and enhance their learning experience. Some of my favorite sets of classroom decor that I have created include:
Tip 11: Be Flexible
Teachers are consistently adjusting to changing circumstances. Being flexible enables teachers to navigate unexpected situations. Whether it's disruptions, technical glitches, last-minute changes to the curriculum, or the unannounced fire drill, flexibility allows teachers to handle these situations calmly and helps keep the classroom running smoothly.
Tip 12: Incorporate Creativity and Fun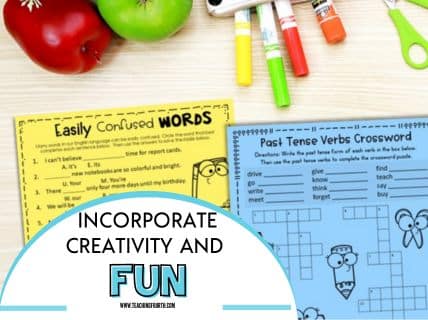 Infuse creativity and fun into your lessons whenever possible. Fun activities such as games, art, puzzles and riddles, or hands-on activities can help keep students engaged and learning fun.
Add some fun to your grammar lessons with this Fun Grammar Packet filled with puzzles, riddles, coloring activities, and more! Your students will love reviewing grammar with this fun packet, and it's yours for free! Just click Here or the picture above to get your free packet when you join the Teaching Fourth Email Club.
I truly hope that your school year is a wonderful one! Wishing you all the best this school year!