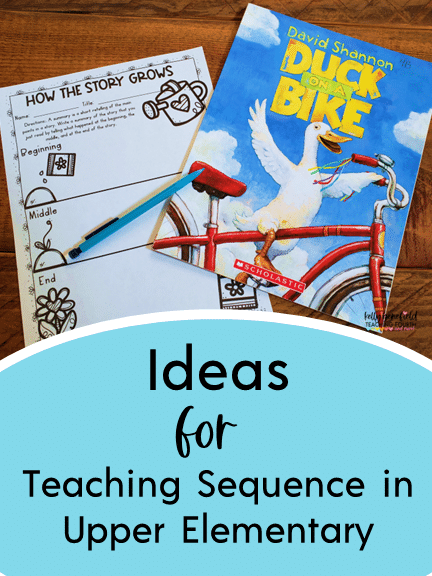 Sequence of events is such an important reading skill. Understanding sequence helps students comprehend and follow the chronological order of events in a text. Sequencing encourages critical thinking and promotes a deeper understanding of the content. Help your students master sequencing with these fun mentor texts and ideas for teaching sequence of events.
Ideas for Teaching Sequence of Events
Sequencing, or the order of events from a story, may seem like a simple task on the surface, but often when young readers are asked to retell a story, they may begin with the end of the story or may simply tell their favorite part. Sequencing is one of the basic skills that we may assume our students have mastered, but many fourth graders still struggle with this skill.
One great way to help students understand how to sequence text is to model this for your students. This can be done by using a mentor text to read aloud. As you are reading, create an anchor chart on chart paper or on a whiteboard. Stop at key points at the beginning, middle, and end of the story to demonstrate your thinking, and write key events from each part of the story.
There are many wonderful picture books to use as a mentor text when teaching sequence of events. Here are 5 of my personal favorites to use with your upper elementary students.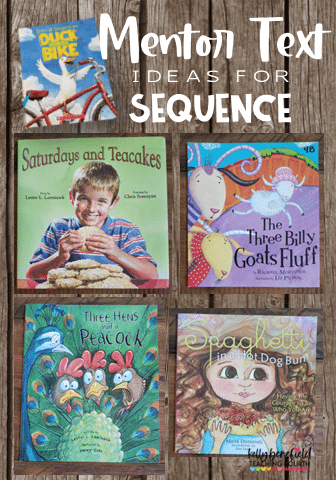 Duck on a Bike- This fun book is sure to make your students smile! Duck has a wild idea to ride a bike, and when she does, she gets everyone's attention on the farm!
This simple storyline makes this book a great choice to use with teaching sequence of events. It is also great to pair with my How the Story Grows Graphic Organizer.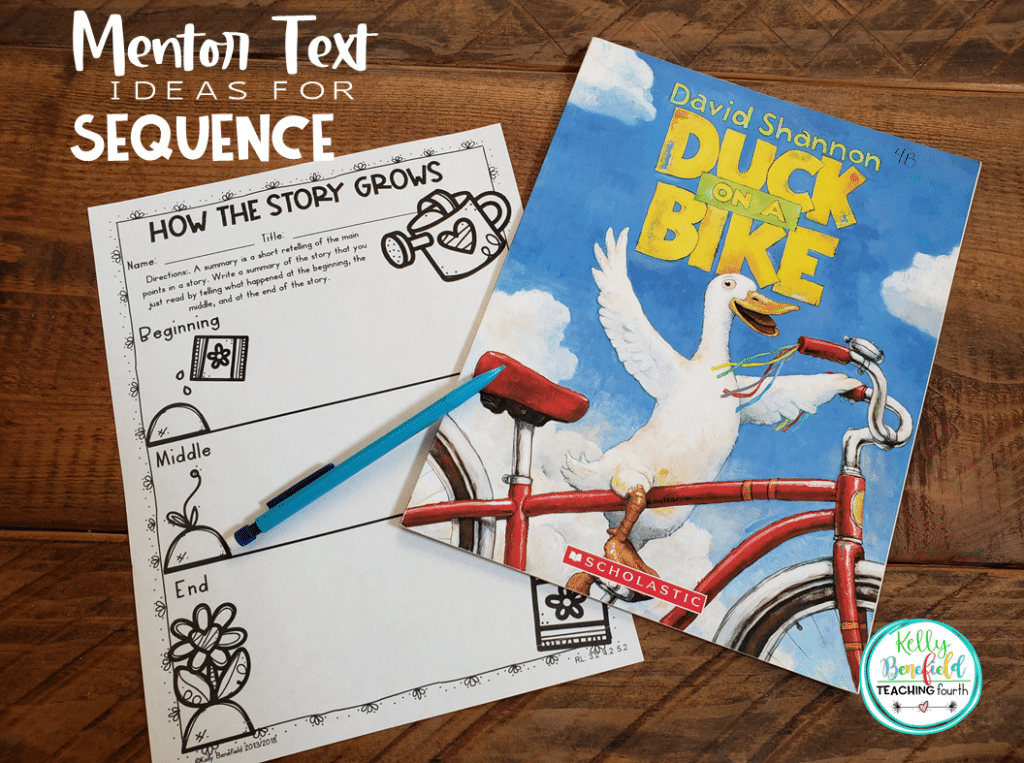 Three Billy Goats Fluff is a fun twist on the traditional story of the Three Billy Goats. The bright illustrations are one of my favorite features of this colorful book, and the simplicity of this storyline makes it a great choice for students who may be struggling with sequencing. Pair this story with my First, Next, The, Last Sequence Organizer.
Three Hens and a Peacock is a story that your students will enjoy! Everything is ordinary on the farm until the peacock shows up. The hens soon become jealous of all of the attention that the peacock is getting. After deciding to trade roles, the animals quickly learn how hard it is to do someone else's job. Add this book to your ideas for teaching sequence of events!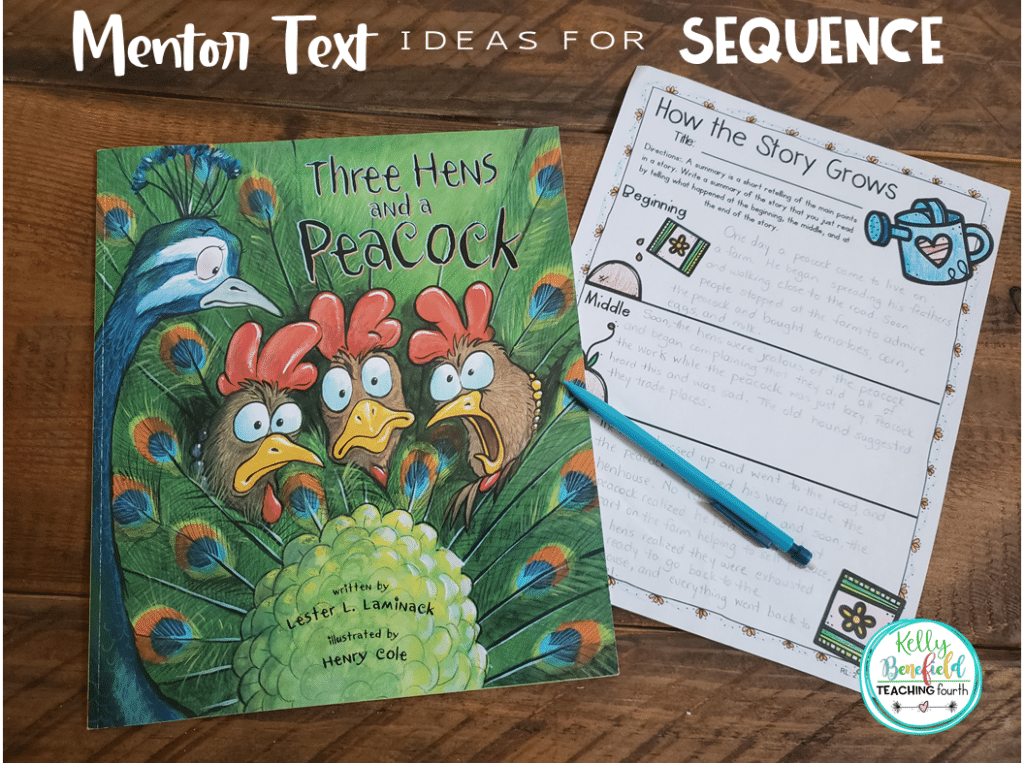 Many teachers may introduce sequencing at the beginning of the school year, so why not extend your lesson to include sequence? Many of the "back to school" picture books are great to use for sequencing. One example is Spaghetti in a Hot Dog Bun. For a quick mini-lesson on sequence, use this mentor text the same week that you read it to your students for back to school. You don't have to reread the entire text again, which will save you time. You can simply model the sequence of events and chart the events on an anchor chart.
This book is great to pair with my Road Signs to Sequence Graphic Organizer.
Saturdays and Teacakes is one of my personal favorite picture books! This story is such a sweet reflection of the author's childhood and the Saturdays that he spent with his grandmother. The simplicity of events makes it a great choice to practice sequencing.
Ideas for Teaching Sequence: Graphic Organizers
Graphic organizers are an excellent tool to help your students master the skill of sequencing. Sequencing graphic organizers can help your students in a variety of ways.
Enhance Comprehension- Sequence graphic organizers can help your students understand and retain information by helping students break down the text into a logical sequence.
Improve Comprehension- They help students understand and retain information by visually organizing the order of events.
Critical Thinking- They require students to think critically about the relationships between events which promotes a deeper understanding.
Visual Learning- Visual learners benefit from using graphic organizers.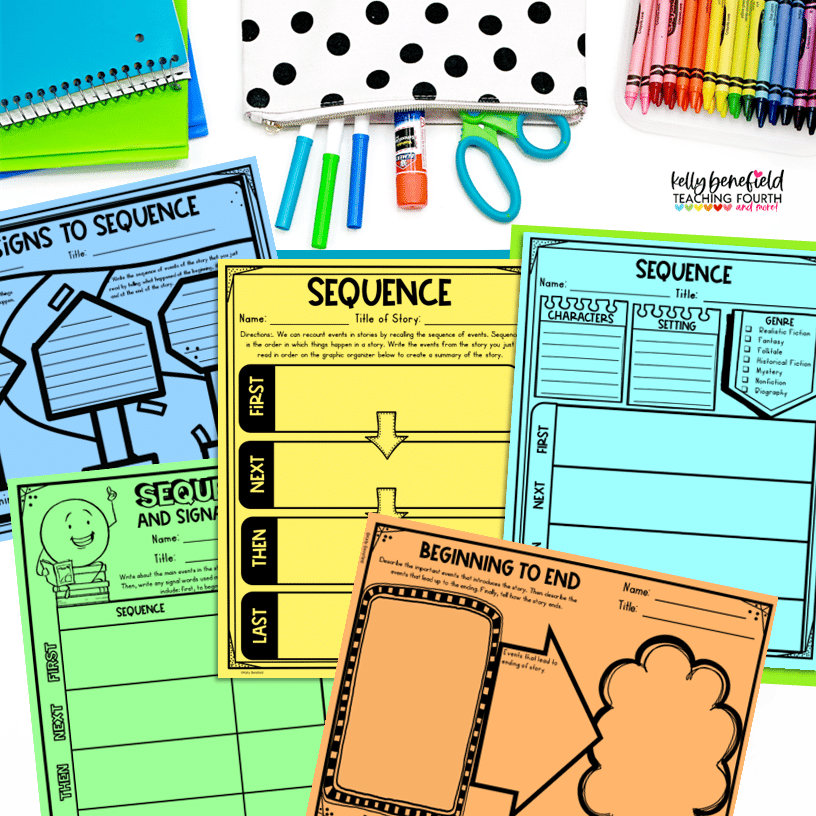 Other Activities and Ideas for Teaching Sequence
After completing one of the graphic organizers on sequencing, why not extend the activity to include an oral presentation of the sequence of events? Students could share with a partner or with a small group of students. Another fun idea is to use Flipgrid (I am not affiliated with Flipgrid or being paid to promote). Your students can use this app to record themselves sharing the sequence of events from a story. Then share some of the presentations with the entire class, or allow groups of students to view one another's presentations and discuss.
For another activity, all you need are white paper plates, pencils, and crayons. Give each student a paper plate. Students use a ruler to draw one line vertically through the center circle of the plate and one line horizontally, creating four equal sections. In the first section, students write the name of the story, the author, and draw a picture. Students label each of the other three sections, "beginning, middle, and end."
Then students write about each part of the story inside that section. These are great to hang on a bulletin board or in the hallway. Simply using an unexpected item like a paper plate can create a little excitement about sequencing.
For another simple idea for sequencing, be sure to visit this Blog Post.
Kelly