Valentine's Day can undoubtedly get a little crazy in the classroom, but it is a great opportunity to focus some of that excitement and energy on a few engaging Valentine's Day classroom activities. With the right activities, you can ensure that your students enjoy the day while making it a little less stressful for yourself. It is also a great opportunity to not only have fun but to sneak in some fun learning, too!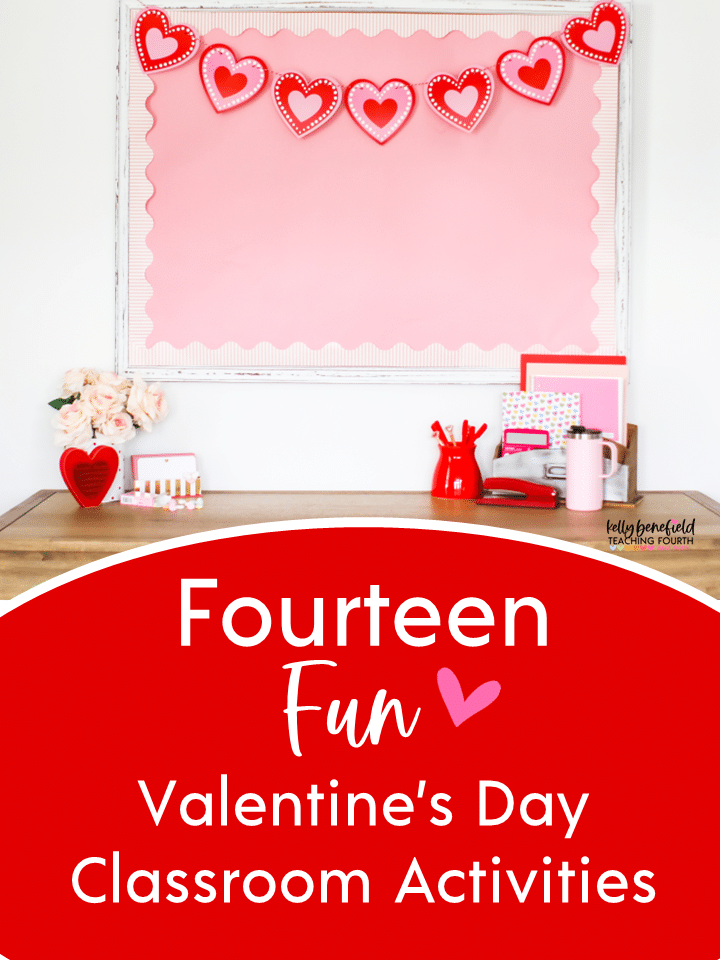 Are you are looking for some simple and fun Valentines Day activities for students in the elementary classroom? Read on to find 14 Valentine's Day classroom activities and ideas to help you create a wonderful, fun-filled Valentine's Day for your students. From fun games and crafts to educational activities, there are plenty of ways to bring some extra love into the classroom this year! Fun activities do not have to be hard or time-consuming. Read on to find some simple ideas that you can easily use in your classroom.
14 Valentine's Day Classroom Activities
Fun Activities to Save You Time
1. Scavenger Hunt: Scavenger hunts always equal fun. For a fun Valentine's Day version, have students search for red items in the classroom. Give each student a list of red items they must find in the classroom. The student who finds them all first wins!
2. Valentine's Day Heads Up 7up Game: Let your students play Heads Up 7up, but instead of tapping students' heads to let them know that they have been chosen, students place a heart on the students' desks that they have picked. When the teacher says "Heads up 7up," students look to see if they have a heart on their desk. If they do, they get to stand and try to guess who picked them.
3. Valentine's Day Parts of Speech Color by Code: Students won't realize they are working with these fun Valentine's Day Parts of Speech Quilts. After choosing their own color codes, students can complete a quilt piece by identifying the parts of speech of each word. Once completed, they make a great display.
4. Valentine's Day Trivia: Have students answer questions about Valentine's Day culture and history for a fun competition. You can easily find digital versions on Kahoot and Quizziz.
5. Write Valentine's Day stories, then have each student illustrate the story.
Word Search Fun Activities Valentines Day
6. Students Always Love Word Searches: Print out these holiday word searches found in my February Word Searches Packet. Students to locate words while listening to relaxing music! A great calm-down activity following party activities or card exchange! You can even give prizes to the first finishers.
7. Another Scavenger Hunt: Hide little notes and treats around the classroom for your students to find. This can be done in teams or individually, encouraging collaboration and problem-solving among classmates.
Valentine Poetry
8. Valentine's Day Poems: Have students write "Valentine" vertically down a piece of paper. Then use each letter to begin a word or phrase about Valentine's day to create Valentine's poems. Or create a Valentine's Day Poetry quilt and write even more poetry with this fun, print-and-go Valentine's Day Poetry Quilt Resource. Find out more:
9. Partner Read Valentine's Day Books: Gather Valentine's Day-themed picture books. Let your students partner up to partner-read a book. If desired, work with a lower-grade teacher in your school and let your students read aloud to a younger student.
10. Create a Valentine's Day Photo Booth: Set up a fun backdrop and props where students can take fun photos with their classmates and friends.
Valentine's Day Grammar Practice
11. Sneak in Some Grammar Practice: Provide an opportunity for students to review grammar with this fun Valentine's Day Grammar Packet. Students will forget that they are practicing grammar with the fun Valentine's Day English activities filled with puzzle and coloring pages.
12. Make a Classroom Valentine's Day Tree: Each student can make a paper heart and write a special message inside. The hearts are then hung on a tree or wall to create a cheerful Valentine's Day display.
Valentine Puzzles
13. Valentine's Day Puzzles: Your students will love these fun Valentine's Day puzzles, dot-to-dot pages, mazes, Sudoku-styled puzzles, and more! Keep your students engaged and having fun with these fun activity pages.
14. Valentine's Day Gift: Copy several pages from the Valentine's Day Puzzle Packet above and staple into a packet. Attach the Valentine's Day poster (found inside the packet) to the front and give each student a packet as a Valentine's Day gift from the teacher.
Save Your Sanity
Valentine's Day is a great time to get your students engaged and excited about school and learning. While Valentine's Day in schools can be hectic, when you incorporate any of these Valentine's Day classroom activities, you can make this special day even more fun for everyone. From decorating cards to writing poems, there are plenty of simple and enjoyable ways to celebrate.
You are sure to create special memories as you and your students celebrate Valentine's Day in your classroom. Making Valentine's Day extra special this year can be simple and easy!
For even more Valentine's Day ideas, check out this blog post and this blog post.