Why save poetry writing until spring? Here are 6 great winter poetry ideas and activities that you should try in your classroom ASAP! Yes, April is poetry month, but poetry, in my opinion, should be scattered and used throughout the entire school year. Winter is a great time to share winter poems with our 3rd, 4th, and 5th grade students. With all of the beauty of winter, it is also a perfect time for your students to write poetry!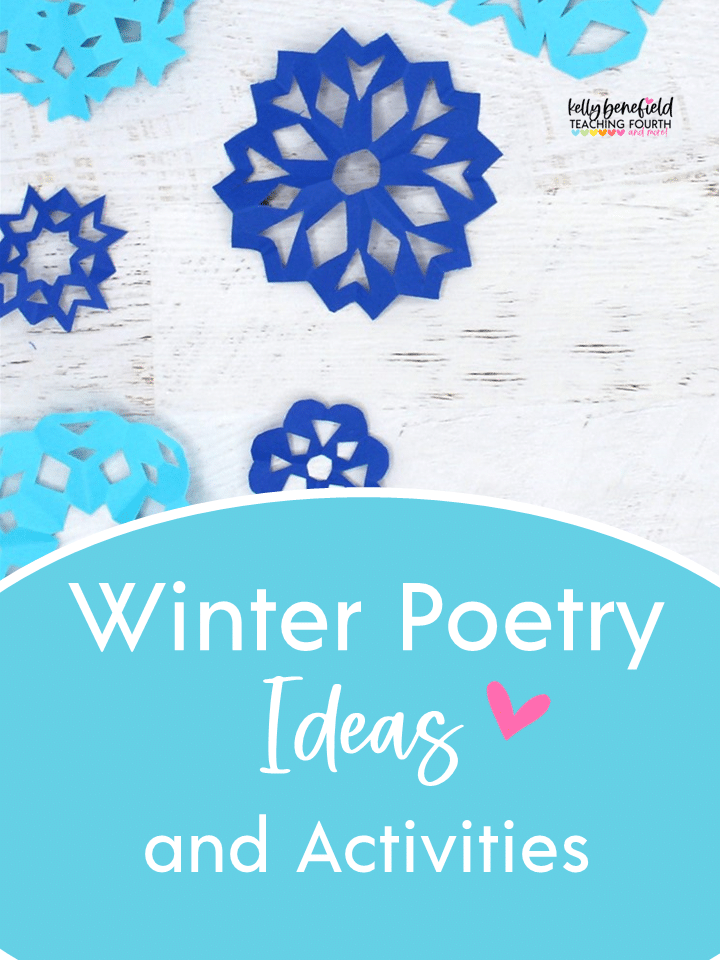 Winter Poetry Ideas and Activities
Copy Winter Poems and Illustrate
Here is one simple activity to get your students excited about poetry. Find and give each student a copy of a winter poem. Two choices for poems might be Stopping by the Woods on a Snowy Evening by Robert Frost (found on Readworks) and The North Wind Doth Blow (a nursery rhyme).
Print a copy of the chosen poem for each student.
Read the poem aloud to your students.
Discuss.
Then let your students partner read the poems.
Ask your students to create an illustration at the bottom of the page or around the entire page. Illustrations should represent their visualizations from the poem.
Color.
Set Up a Winter-Themed Poetry Corner in Your Classroom
Designate a corner of your classroom for wintry poems. Decorate the corner by displaying winter-themed items. Arrange and display a snowman figurine or a plush snowman. Hang or arrange gloves, winter hats, or mittens. Hang paper snowflakes from the ceiling.
Then place a variety of winter poetry books around the table such as Snow, Snow: Winter Poems for Children by Jane Yolen. (No need to purchase. Check your school and local libraries to check out books for your classroom).
Decorate a nearby bulletin board or a wall with a winter scene. Display favorite winter poems on the board or display students' written creations such as their Poetry Quilts (see below).
Place poetry quilt pages in a basket or a container on the table for easy access. Students may visit the winter poetry corner as a center or station, in the mornings before the bell, or during independent reading time.
Snowman Poetry
Give students a copy of a snowman template (a free one can be found HERE on TpT). Students can draw and color the face, hat, and scarf of the snowman. Then on the body, they can write a snowman poem. You may choose for students to write a specific type of poetry such as a Haiku (see below) or a Cinquain.
Write a Winter Haiku
Get your classroom writing winter poems with this simple form of poetry that students love! A haiku is a simple 3-lined poem. This poem does not rhyme and contains 17 syllables. The first line contains 5 syllables. The second line has 7, and the third line has 5 syllables. Let students choose a winter topic to write a haiku.
Winter Poetry Ideas and Activities Topic List
reading a book by a fire
wearing mittens
wearing flannel pajamas
skiing
wearing fuzzy slippers
watching it snow
describing a snowy landscape
having a snowball fight
baking cookies
icicles
going sledding
a cold winter wind
building a snowman
making a snow angel
snow crunching under your feet
wearing snowboots
a winter scene
a frozen pond
drinking hot chocolate
a toboggin
eating soup on a winter day
Snowball Poetry "Fight"
Engage your students with winter poetry and get your students excited about reading winter poems with a fun snowball fight! Find and print a variety of winter poems (enough for each pair of students in your classroom to have a copy. Pair up your students. Give each pair a copy of a winter poem. Ask partners to read the poem to each other. Once everyone finishes, let the snowball fight begin!
Students should ball up their papers and throw. You may choose to set a timer and let students continue throwing for 10, 20, or even 30 seconds. Once the timer goes off, each pair of students should pick up the paper closest to them and partner read that poem. Once all partners have completed partner-reading, begin the snowball fight again. Repeat as many times as desired.
Winter Poetry Quilts
Are you looking for an easy and simple way to inspire your students to write poetry this winter? My Winter Poetry Quilts Packet is so simple to use and your students are sure to love these fun poetry writing pages. Inside you will find 20 different types of winter poems that your students can write. Once complete, students may color and cut out the quilt pieces. Then use these quilts to brighten up your hallways or bulletin board.
Find 20 different types of poems.
haiku
acrostic
tanka
cinquain
penzee
diamonte
couplet
triplet
two worder
limerick
and more!
You may choose to use this poetry packet in several ways!
whole group lessons
morning work
early finishers
centers
following tests
and more!
Click Here to learn more about this great resource!
Try just one of these simple and fun winter poetry ideas and activities and get your student motivated to write poetry this winter!
For ideas about teaching metaphors (which are great to use in poetry) check out this blog post here.
Have a blessed day!
Kelly