I believe that bulletin boards should be functional and useful. Now, I love a beautfiul bulletin board, but more importantly, I think it should benefit my students. Here are some great grammar and reading bulletin board ideas that you can use in your classroom.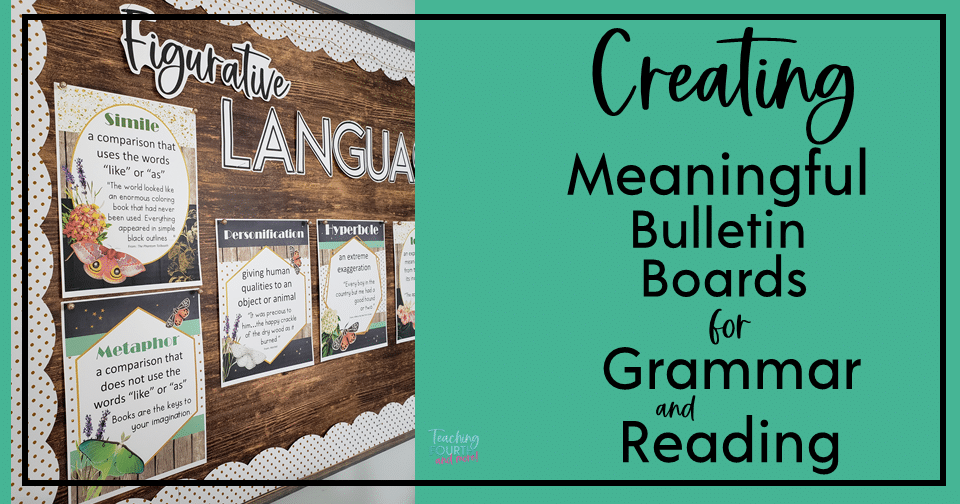 This is my last blog post in my series of post called, "4 Ideas for Creating Meaningful Bulletin Boards." (Find Part 1 HERE.) With so little time and so much to do, teachers can become so stressed over creating bulletin boards. Don't let this be you! I'm back posting about an idea for a bulletin board that can last the entire school year!
Bulletin Boards as Teaching Tools
Creating a bulletin board for important skills that can be referenced throughout the year can help students remember concepts that have been taught. This visual display can be very helpful for all of your students, but it will be a great benefit to your visual learners. By creating a grammar and reading bulletin boards that you can use as a teaching tools, you should have no worries in leaving this bulletin board up the entire year which will, in turn, give you more time to do what you love, teach!
Grammar and Reading Bulletin Board Ideas
Teachers know that there are some topics that are taught the entire school year. As a language arts teacher, reading skills, genres, and parts of speech are just a few examples.
For these skills that are taught and reviewed throughout the entire year, why not create bulletin boards that will be useful teaching tools throughout the school year? Use them in your mini-lessons, create a station or center around the bulletin board, or use for students to reference throughout the school year. Here are 4 great grammar and reading bulletin board ideas for your classroom.
ONE: Grammar Bulletin Boards
One of my favorite bulletin boards to display and use the entire year is a grammar or parts of speech bulletin board. In grammar, we teach the parts of speech and review them throughout the year. Unfortunately, because of time restraints, this subject is often rushed or neglected. Create a bulletin board so that these grammar terms will be in front of your students all year long.
My students use and refer to the parts of speech board often, and I use the posters in mini-lessons as I teach and review each part of speech. I have created several grammar bulletin boards that can be found in my store with a variety of themes including: owl, bee, blue and green, burlap, and more!
TWO: Reading Genre Bulletin Boards
Another great bulletin board to create if you teach reading is a reading genres bulletin board. Creating a bulletin board with the reading genres that you and your students will be reading is a great reference tool for your students. You can use these posters during mini-lessons or as a reference to help students identify different genres.
THREE: Figurative Language Bulletin Boards
Creating a figurative language bulletin board is another fantastic tool for your classroom. Teaching figurative language is an important skill in both 4th and 5th grades. Placing a bulletin board dedicated to the types of figurative language is a great reference that students can use throughout the year as they are reading in literature circles, small groups, with book clubs, or independently.
FOUR: ELA Classroom Decor Bundles
Make your classroom decorating easy with ELA Classroom Decor Bundles. Find the bulletin boards and posters that you need for your reading or ELA classroom all in one place: grammar posters, figurative language posters, learning targets board, banners, and more. Choose from my best-selling Farmhouse ELA Classroom Decor set or my new Vintage Moths theme.
Creating meaningful bulletin boards will not only benefit your students thi year, but can help you save time. You will have materials ready for your mini-lessons right at your fingertips. I hope you found some grammar and reading bulletin board ideas that you love. Consider choosing bulletin boards that will work for you this year.
Have a blessed day!
Kelly