The end of the school year can be filled with so many emotions: relief, a little sadness, anticipation, anxiety to squeeze in all of the curriculum, and a lot of excitement (even from the teachers). With the year winding down, it is a perfect time to plan some fun and memorable activities for your kiddos. Here are a few ideas.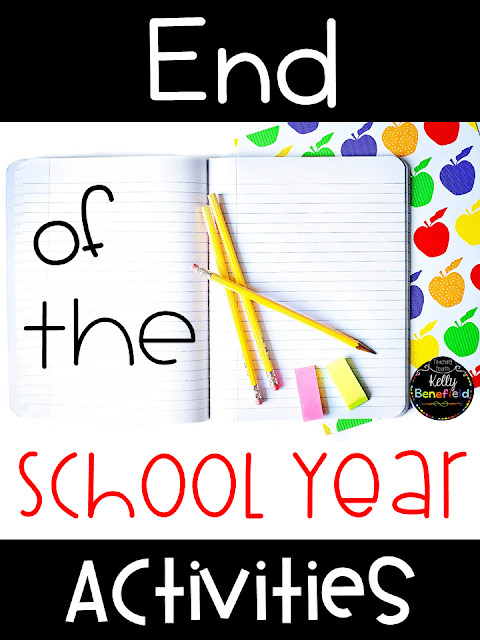 Here are some great end of the year activities that you and your students will love!
Time to Reflect
Take time to reflect on the year with this easy prep activity. Have students sit in a circle. Use a Random Name Selector (such as the one here) or simply toss a bean bag. Begin by selecting a name or tossing a bean bag to a student. The person chosen should share a memory from the school year. Continue selecting or tossing. Each student selected should tell a memory without repeating one that has already been shared.
Have a Game Day
The end of the year is a perfect time to review everything that your students have learned this year, and what is a better way to review than to play games? Pull out games that you have used at centers, task cards that can be used with purchased game boards, and divide the students into groups. Give each group a game and let the fun begin! If time allows, rotate games and start again. This is a perfect way to review and have some fun at the same time.
Sidewalk Chalk
Even big kids love sidewalk chalk, but why not make this activity more than just drawing a picture? Let it be a review of what your students have learned this year. Take your students outside to the nearest school sidewalk, give each group sidewalk chalk, and ask each group to draw a mural related to something that they have learned this year. Students can create murals depicting topics they have studied in science or social studies.
End of the Year Party
Even from my own elementary days, I remember some of our end of the year parties and celebrations. They were a special time. One way that my coworkers and I enjoy making this time special is by having a biscuit brunch for our students. We have a local fast food that serves great biscuits, and they are happy to help us with our plans. We usually pre-order our biscuits and run through the drive through on the morning of our brunch to pick them up. We serve them juice. This is always a hit with our students.
End of the Year Memory Book
A memory book is a great activity for those days when students can't wait to get out of school, but it is also a great keepsake for your students. Plus, parents love these precious keepsakes!
Your students will love this end of the year memory book/posters.
The last few weeks of school we work to complete the pages from my Owl About My School Year End of the Year Activities packet. Students absolutely love completing these pages and reflecting on the school year. Click on the picture above to visit my TpT store to purchase, or enter to win this packet by clicking on the Rafflecopter below to enter for a chance to win this memory book along with a $10 TpT gift card.
I have teamed up with he wonderful bloggers listed above for a fabulous end of the school year giveaway! Don't miss out! Beginning May 8th, be sure to enter to win a $100 gift card from Target! Yes, $100!! Leave a comment below that you have entered, and be sure to complete all of the requirements to be eligible for the $100 Target gift card. Once you have completed the Rafflecopter, click the link below to visit the next blog in order to complete all requirements for this fantastic giveaway! Remember, giveaway begins May 8th and continues through May 13th!
Have a blessed day!