What do feather boas, pompom shakers, chain links, and tissue paper all have in common? Bulletin boards! That's what! I work with an amazing group of teachers. Not only are they amazing at teaching and working with our sweet kiddos, but they are pretty amazing decorators as well. and this year they have created some of the most colorful and creative bulletin boards for our school hallways! Today, I want to share 4 fabulous 3D bulletin board ideas from our school with you!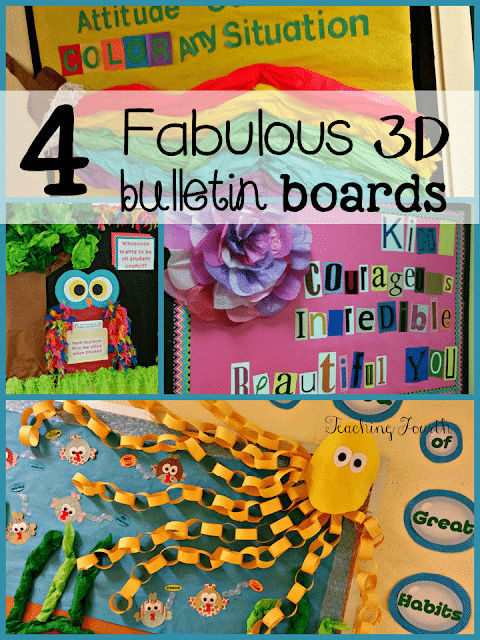 4 Fabulous 3D Bulletin Board Ideas!
 Bright, colorful, and creative would be how I would describe each of these bulletin boards, and boy, do they add a splash of color and a POP to our hallways!

The bright colors and tissue paper flower of this bulletin board definitively make it a stand-out in our hallways! It is absolutely gorgeous! Don't you just love these encouraging words? This bulletin board simply makes me smile!!
Now, you probably know that I love owls, and when our counselor put up this amazing owl bulletin board, I was so excited! Feather boas, pom-pom shakers, and a tissue paper tree make this bulletin board an absolute show-stopper!

I know that I have seen several versions of this 3D bulletin board floating around Pinterest, but our counselor's version of this paint brush bulletin board is just too cute to not share!

Under the sea themed bulletin boards are always cute, but this board is beautiful with all of its 3D effects! The octopus with chain link legs is simply adorable!!! Our hallways are looking good with all of these fabulous bulletin boards in our school! Today's post is short and sweet, but I hope you enjoyed these bulletin board beauties!
Have a blessed day!