Superhero Classroom Ideas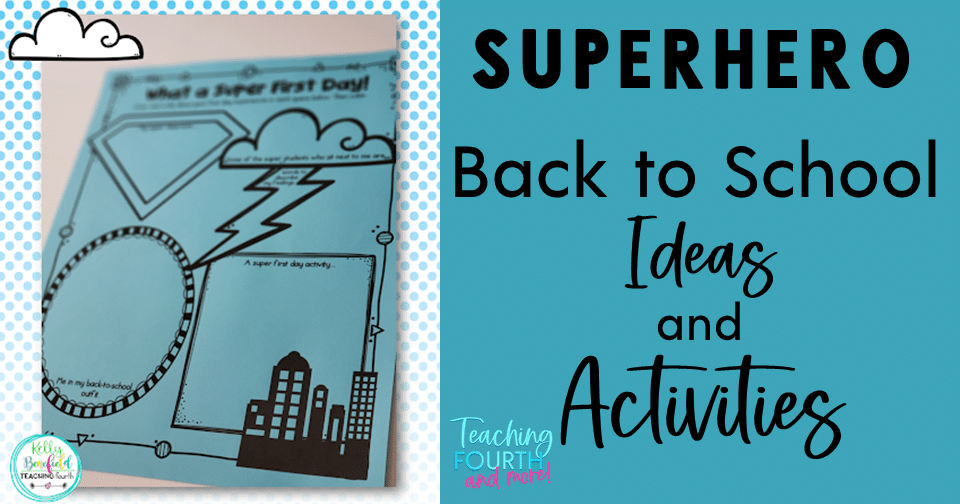 Each year our school incorporates a school-wide theme at the beginning of the year. The theme is always the inspiration that we use to decorate our hallways and create fun activities for the beginning of the school year. This year, our school-wide theme is Superheroes. For me this is such an appropriate theme this year because I could use a few superpowers to help with the changes that are taking place for me. I am moving up to 5th grade this year, and although I have been in 5th before, it has been a long time. Even though it will be a lot of work, I am looking forward to a super year!
There are so many fun ways to incorporate this school-wide Superhero theme into our first day and first week activities. Be sure to read the entire article for some free and easy activity ideas for activities for a Superhero theme back to school year.
Superhero Activity Packet
Superhero All About Me
What better way to get to know your students on the first day of school than with the All About Me Posters? This Superhero All About Me Packet is a perfect way to incorporate a hero theme in your first day activities. My students love completing these posters, sharing them, and seeing them displayed in the hallway. Use these for the first day of school, birthdays, student VIP's, and more! Find them in my store.
Superhero Motivational Posters
Superhero Easy Activities
Here are some fun and free ideas that fit in perfectly with a superhero theme!
Superhero Goals
Post 4-5 pictures of recognizable Superheroes around the room. Tell students that they are going to pick a Superhero picture to stand next to. They need to think about which Superhero's qualities best relate to them and describe the goals that they would like to reach this year. Once the students move to the Superhero of their choice, give each group a sticky note and assign a writer. Students will write down how their goals relate to this Superhero. Then share. This activity requires some deep thinking and is probably best for upper grades. My 5th graders loved this, and they came up with some wonderful ideas such as, "We want to be like this superhero because we want to fly high with our grades this year." "We want to be like this superhero and be a strong reader." This activity is a fun way to get the students up and moving, working with others in the classroom, and get them thinking.
Superhero Collage
Divide your class into groups of 4-5 students. Give each student a large sheet of paper, glue, scissors, markers, and an assortment of printed superhero pictures and symbols. Instruct students to create a Superhero collage that represents them and this new school year. Students might even think of a Superhero classroom name and place it at the top of the page. After all groups have finished with their collages, students may share with the entire class.
Superhero Comparison
Give each student a Venn diagram. Instruct students to label one side with their name and the other side with a famous superhero of their choice. Students will use the Venn diagram to write about differences between themselves and this superhero. Then they will write about similarities between themselves and the superhero in the center. For example, a student might be like a particular superhero because they both like to do nice things for other people.
Play Guess Which Super Student
Thanks for stopping by! I hope you have a blessed day and a super year!