Are you looking for some great morning work ideas? Establishing a morning routine that includes morning work can help create a consistent routine, help set the tone for the remainder of the day and is a great time to reinforce learning.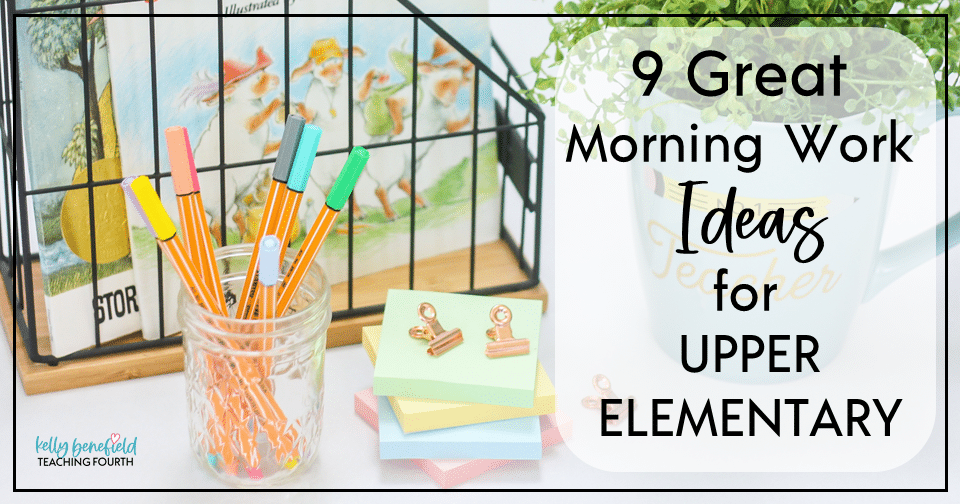 Mornings can be such a busy time of the school day. If your school is like mine, students trickle into the classroom each morning. Beginning at 7:30 the school doors open and car riders and bus riders filter into the classroom until the tardy bell at 7:55.
But what do we do with our students during this time?
First of all, it is important to establish a morning routine. Students should know morning expectations such as putting away lunch boxes and backpacks, sharpening pencils, gathering supplies, etc.
Once students have completed these morning routines, then what? There may still be 5, 10, or even 20 minutes before the bell begins the school day. Morning work is a great solution!
Whether you choose seatwork to help begin a relaxing and calming day, or you prefer a more active, hands-on approach to morning work, there is no wrong choice. Choose a type of morning work that fits the needs of your classroom. Here are 9 great morning work ideas for your classroom.
Morning Work Ideas
Read a Book
Begin each morning with independent reading. If you are looking for a way to establish a calm routine to begin each day, beginning with students reading a book is perfect. This is also a great choice if you have trouble finding time during your day for independent reading.
One added benefit to using reading a book as morning work is that it is truly no prep!
Board Work
Before my classroom was 1:1 with technology, I would often begin my day with morning work that I called board work. This was usually grammar review or math review problems and questions that I would write on the board. Students then completed the work in a morning work journal. Even with technology, this is still a good choice if you are looking for a morning work routine that provides students an opportunity to practice skills that they have learned.
Computer Time
Another great way to begin the day is with computer-assigned work. One of my favorite websites to use for morning work is Readworks. I love using their 'Article-a-Day' during morning work. These short 10-minute articles help students to build background knowledge and vocabulary. My favorite sites and computer activities include:
Daily Grammar
Finding time to squeeze in grammar during the school day can be difficult. By creating a morning work routine that centers around grammar review, you can rest assured that your students will have time each day to practice their grammar skills.
My 4th Grade Daily Grammar Bundle can provide your students a fun way to begin their school day. Each packet is jammed full of monthly grammar puzzle and coloring pages to help your students practice their grammar skills.
Students love these fun pages! Click on the image below to find out more about this year-long seasonal grammar bundle.
Just look at what teachers have said, "These grammar packs are great for morning work during the holiday times. They think it is a break from their normal stuff and since it is all themed with the holiday it seems to keep their interest just a little more."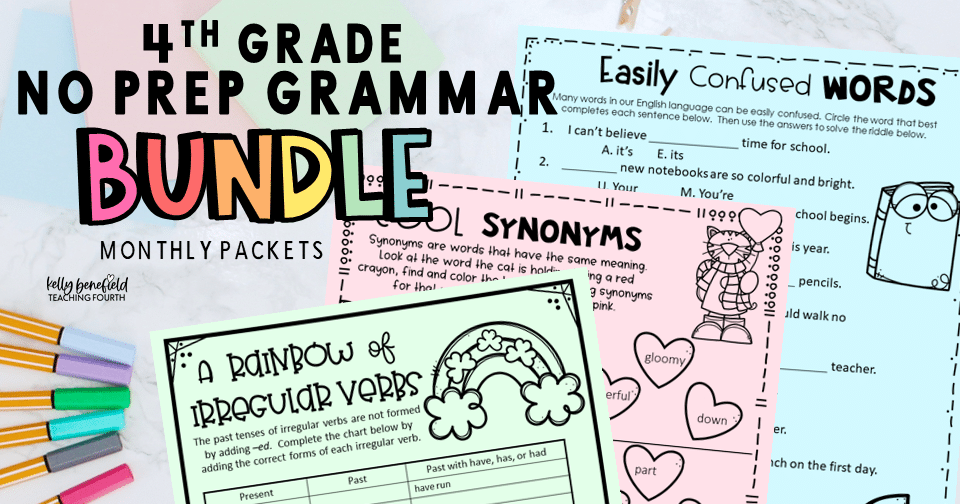 Click HERE for my 3rd Grade Bundle.
Daily Edits
Students often struggle with grammatical errors in their writing. Give your students opportunities to find and edit grammatical errors with daily edits. Find free edits for every month HERE.
Brain Teasers
If you are looking for a fun way to begin your school day, brain teasers might be for your classroom. Try a variety of types of brain teasers to get your day off to a great start.
analogies
brain teasers
logic puzzles
jigsaw puzzles
riddles
Soft Start Morning Work
I have had some classes that were simply not morning people. I can personally relate. I am not a morning person, and it takes me a while to get going. For these students, a soft start can be a good way to start the day. Soft start morning work simply consists of easy tasks that students can choose to settle into the classroom before academics begin. Soft start assignment may include:
coloring pages
puzzles
listening to books
directed drawings
dot-to-dot
activity tubs
Complete Morning Tasks
Finding time to complete tasks that need to be done can sometimes be challenging. Students can complete these tasks as part of their morning work. I always struggled with finding time to allow students to go to the classroom library that wouldn't be a disruption to the others in the classroom. Eventually, I realized morning was a perfect time.
Other tasks that students might complete during morning work:
visit classroom library
complete attendance chart
complete classroom jobs
turn in homework
fill out planners
Listen to Music
Add music to your mornings! While is not 'work', it is a fantastic way to set the tone and rhythm of your day. From fun upbeat tunes to calming sounds, music can add so much to your mornings.
I love using playlists from Spotify for classroom music. Here are a couple of my favorite classroom-friendly places to find great playlists on Spotify.
Please keep in mind that unless you have a Spotify subscription, commercials will be played periodically, and some of those commercials may not be suitable for your classroom. (I am not an affiliate, but am simply sharing classroom ideas.)
Remember when choosing an activity for morning work, what works for one group of students, may not work as well for another group. Choose a morning routine that works for both you and your students.
I hope you found some morning work ideas that will fit your morning routine! For even more ideas on classroom routines, check out my blog post HERE.
Thanks so much for stopping by, and have a blessed day!
Kelly Benefield