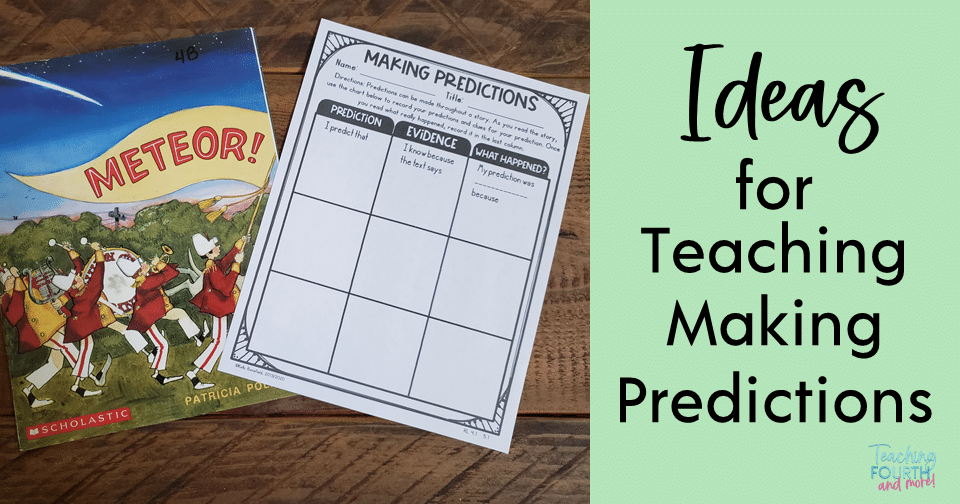 Ideas for Teaching Making Predictions
Making predictions is important in reading because it requires students to actively think about  and interact with the text. Making predictions also helps readers determine the author's meaning. Using picture books for mentor texts is a great way for students to make predictions. Find some great ideas for teaching making predictions to your upper elementary students.
One simple activity and idea for teaching making predictions that I use is to use the cover of the book and index cards.
I simply place the cover of the picture book under a document camera and ask students to make a prediction about the story based on the title and the cover illustration.
Pass out index cards or sticky notes. (Using something different and as simple as index cards or sticky notes can motivate students and get them excited about the lesson.)
Students then write a paragraph about their prediction of the book on the index card. I like to have students share their predictions with a partner.
After the book is read, partners can then revisit their predictions and discuss outcomes of stories.  If students wrote on sticky notes, create a simple anchor chart with the title of the book and, "Making Predictions."
Then stick the sticky notes to the chart to keep on display. This is a great way to get students thinking about a book.
Here are a few of my favorite picture books to use when making predictions. 
Meteor
 by Patricia Polacco is a wonderful story about a mysterious rock that falls one night on a small farm and the wonderful events that happen as a result. I love Patricia Polacco books, and just like many of her stories, this one is based on a real-life event! The cover illustration and title makes for wonderful discussions about predicting what is going to happen in the story. In addition, here is a great link to a video featuring Patricia Polacco discussing the book's background. Once students have made cover predictions,
you may want to show this video (click here) before reading the book aloud. 
The next book is not only great for giving students opportunities for making predictions, it is also a wonderful book for teaching empathy and can lead to great discussions about helping others. This heartwarming story set in the Appalachian Mountains is about a little girl named Minna who wants more than anything to go to school, but she can't because she does not have a warm coat. After the death of her father, the ladies who quilt with her mother make a plan that helps Minna get her wish. Throughout this book are several wonderful stopping points for students to make predictions: after the death of her father, after Minna tells Mrs. Miller she needs a coat to go to school, when Minna first wears the coat to school, and when Minna comes back to school at the end of the book. The graphic organizer pictured below is perfect to use with this book. It along with almost 200 other graphic organizers can be found in my best-selling 
Reading Literature Graphic Organizers. Click here
or on any picture to purchase.
The first time I read For the Love of Autumn, I was surprised by the story. My personal cover and title prediction was very different from the actual story. Miss Parks, the new teacher, is heartbroken when her beloved cat comes up missing. With the help of her students, Miss Parks finds not only her cat, but much more. This sweet book will keep your students predicting with the turn of every page.
The final book in my list is Mr. Wayne's Masterpiece. In this story by Patricia Polacco (yes…I am a huge Patricia Polacco fan!), Trisha is terrified of speaking in front of her class. With the help of her teachers, Patricia learns to overcome her fears. There are several great stopping points throughout this book: after Mr. Tranchina wants to introduce Trisha to someone, after Trisha says, "Before long, I knew everyone's part, but no one knew," after she began to love the class, after Kathleen Burns moves away, and after Trisha moves out on stage.
This book can be found
read aloud Here.
Mr. Wayne's Masterpiece
can be revisited many times for a wide variety of lessons such as character analysis, character traits, and theme. 
Finally, be sure to grab this free
Making Predictions Graphic Organizer for use in Google Slides™.
 Your students will love this colorful and fun graphic organizer that can be used with any of the picture books above, your own choice of picture book, read alouds, chapter books, literature circles, book clubs, and more! Click the link above or click on the picture below to grab your free graphic organizer. (Your feedback is always greatly appreciated.) I hope you enjoy this free gift just for you!
Blessings!